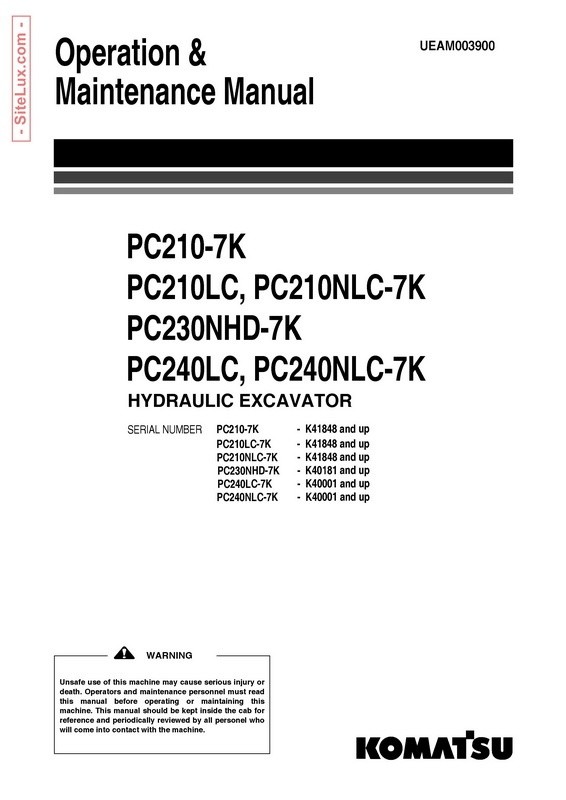 Komatsu PC210,NL,NLC,230NHD,240LC,NLC-7K Excavator Operation & Maintenance Manual - UEAM003900
Komatsu PC210-7K, PC210LC, PC210NLC-7K, PC230NHD-7K, PC240LC-7K, PC240NLC-7K Hydraulic Excavator Operation & Maintenance Manual - UEAM003900
This manual PDF download describes procedures for operation, handling, lubrication, maintenance, checking, and adjustment for the Komatsu PC210-7K, PC210LC-7K, PC210NLC-7K, PC230NHD-7K, PC240LC-7K, PC240NLC-7K Hydraulic Excavator. It will help the operator or anyone realize peak performance through effective, economical and safe machine operation and maintenance.
APPLICABLE MODELS :
Komatsu PC210-7K - S/N: K41848 and up
Komatsu PC210LC-7K- S/N: K41848 and up
Komatsu PC210NLC-7K - S/N: K41848 and up
Komatsu PC230NHD-7K - S/N: K40181 and up
Komatsu PC240LC-7K - S/N: K40001 and up
Komatsu PC240NLC-7K - S/N: K40001 and up
TABLE OF CONTENTS :
- FOREWORD
- SAFETY
- OPERATION
- MAINTENANCE
- SPECIFICATIONS
- ATTACHMENTS AND OPTIONS
- SUPER LONG FRONT BOOM AND ARM PC210/240-7
MANUAL SPECIFICATION :
File Format : PDF
Language : English
Printable : Yes
Searchable : Yes
Bookmarked : Yes
Product Code : UEAM003900
Total Pages : 366
This page sometime can be found use following keyword : service manual, repair manual, workshop manual, technical manual, owner manual, operating manual, maintenance manual, parts manual. Please make sure you read and understand the title of this manual before decided to buy.
More Info :
https://www.sitelux.com
You'll get 1 file (9.7MB)