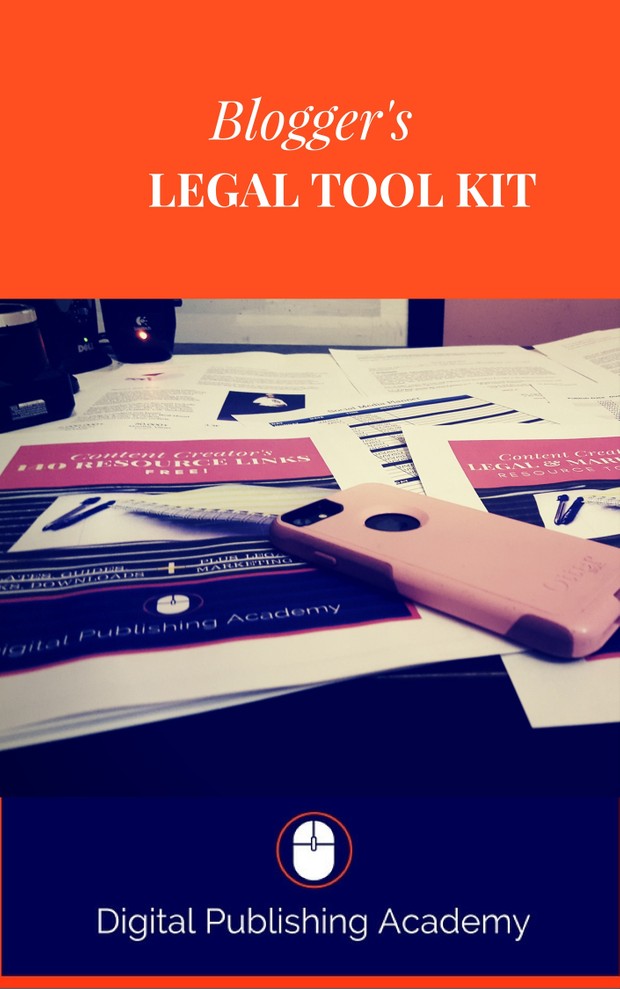 Bloggers' Legal Tool Kit
Blogger's Legal Resource Kit
This tool kit contains many of the legal templates, forms and documents bloggers would need while managing or running their blogs. 
Templates include: 
A Sample Work for Hire Agreement
A Sample Joint Venture Agreement
A Sample Copyright Infringement Cease and Desist Letter
About creator
I am a veteran attorney and I currently manage my own Digital Publishing company and online learning platform called the Digital Publishing Academy where I train transitioning professionals who want to create online content or to launch, grow and scale their new digital ventures, whether a blog, YouTube channel, podcast, eCommerce store and more. I also run several blogs and co-own a stock photography company.
This shop helps me reach other content creators searching for help and assistance with getting organized and staying on track as they go from hobby to professional content creator.
This shop is for the lean entrepreneur who cannot yet afford to hire a team of lawyers, a marketing manager, a social media manager and digital strategist and have to do-it-themselves.
All items are customizable and are drop and go!
I have been an online content creator for over 20 years and in fact created and curated content at the University of Maryland's Office of Technology in 1992 when the Internet was just one year old. I have spent over two decades through trial and error building several online ventures and launching successful, well-trafficked, and award-winning blogs and websites.
Over those years, I've relied on certain forms, templates, themes, planners that make the process of growing, launching, protecting and scaling an online business, blog, ecommerce site or biz site. Many people have asked for these items and I've decided to put them in an online shop.
There is no value in re-inventing the wheel and starting from scratch or doing it yourself. The templates and forms will save you time, money, stress and aggravation.
To help my customers navigate the online, blogging and content creation, curation and marketing biz, I'm including a tool kit I created of 140 resource links. I'm a learning junkie and love to read informative articles, watch instructional webinars, and learning from the best. In this kit, you'll find tons of links to all the information you will ever need to get started and excel.
I've searched the internet, YouTube and other online resources and realized that there is no one out there offering these must-have and often-requested items.
You can customize all of the items easily by just dropping your information and personal details in place of the templates.
***** Reviews******Here is what people have said about my products and teaching style
"... is value-packed with usable content" - Heather Fahlman. Social Media Manager.
HomesinWinnipeg.com
------------------------------
"The materials help me get a handle on my online marketing effort as I work on growing my photography business. I'm using these tips to help me create more income options online. I'm selling prints of my work and anticipate bringing in higher revenues." - Lauren McBroom, Photographer/Social Media Manager, LM Photography/Area-201
-----------------------------
The material offers "helpful strategies to slowly build your brand without being overwhelmed." - Neneh Diallo, Career Strategist, Life Coach, Blogger, Stiletto Moms Coaching
------------------------------
The info was "replete with low-cost or free resources that are both user-friendly and easy to integrate into my blog. I'm already thinking about which I'm going to use." Kim Wei, Founder, The Kim Wei website
-----------------------------
"I learned more about the fundamentals of blogging in 1 hr than I did in 7years." - Nicole Commissiong, Blogger, Mum-In-Motion; Co-Founder, On the Pathway Series
**************************************************************************************************************************************************************************************************************
__________________
THIS PURCHASE INCLUDES:
Items Included:
Legal Templates
A Sample Work for Hire Agreement
A Sample Joint Venture Agreement
A Sample Copyright Infringement Cease and Desist Letter
File Formats
- Microsoft Word (.docx) file
- US Letter
- 140 Resource Links Toolkit/Guide
- Fast and friendly customer service for any help you may need
* Templates are do-it-yourself. You will simply replace your information in place of my text. My language can be substituted and used as a guide
__________________
WHAT CAN I CUSTOMIZE?
- All headings
- Body text
- Colors
- Icon colors + size
- Fonts, font size + font color
- Add or delete sections
- Choose the number of pages
__________________
REQUIREMENTS
1. Your own personal computer. If using a tablet/iPad or public/work computer, check to see that you have the ability to install fonts before purchasing.
2. Microsoft Word and Powerpoint or Mac Pages, any year/version.
Get a free trial of Microsoft Word here --
http://products.office.com/en-us/try
3. Unzipping software such as Winzip or 7zip to open up the zip file you will download. This zip file contains all of the necessary documents to get you started!
Download either free and safely here:
Winzip -- http://www/
winzip.com/prod_down.html
7zip --
http://www.7-zip.org/
4. Basic computer knowledge and familiarity with Microsoft Word, Powerpoint or Mac Pages.
__________________
LET'S GET STARTED!
1. Purchase this listing
2. As soon as your payment goes through, Etsy will email you a link to download your file or download your file here:
etsy.com/your/purchases
3. Download the .zip file to your computer
4. Double-click the file to UNZIP it (download WinZip for free at
winzip.com
)
5. Open the Instructions file to install the free fonts
6. Open the template in Word or Pages and replace my "dummy" text with your resume content - and remember to save it!
7. Also save your resume as a borderless PDF file to upload/email to potential employers and land that job! Directions are in the Instructions file if you need them =)
You'll get 1 file (24.9KB)
More products from Digital Publishing Academy