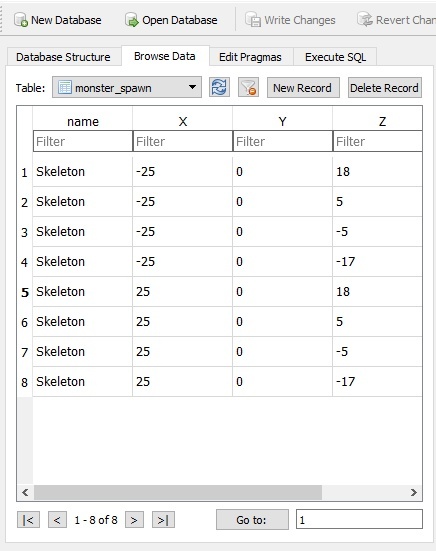 Database Entities
Are you tired of having to rebuild your game constantly to add in a new monster/npc to a certain location? This may help your needs.

[ADVANCED VERSION]

Now packaged with the simpliar version. THIS IS A WIP version.


Requirements
● uMMORPG 1.90 or Newer
● Unity3D 2017.1 or Newer
● .NET 4.6 Framework
New Features
● Multi-Zone Support!!!
● Complete Rewritten Code
● More Advanced Addon
● New way of Spawning, fixes lock ups.
● Now uses ID / CreatureIDs for future ID spawn commands.
[SIMPLE
VERSION]

This simple version is the same as the previous versions released. Up to 1 Zone only.Requirements:


uMMORPG 1.90 or Newer


Unity3D 2017.1 or Newer


Features:


Supports uMMORPG 2D & uMMORPG 3D


Loading Monsters & NPC's from SQLite Database.


Updated Over Time


This addon will help aid you in your MMORPG Project. Giving you the ability to spawn in entities without the need to rebuild your entire project.


https://ummorpg.net/forums/topic/monsternpc-spawning-from-database/
If you like to see more, feel free to throw in a extra tip with your purchase :).
You'll get a 26.2KB .ZIP file.