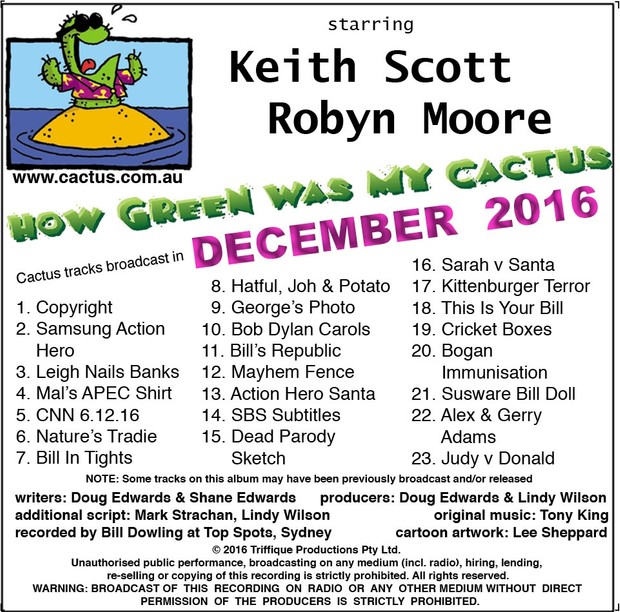 CACTUS - DECEMBER 2016
DESCRIPTION
CACTUS - DECEMBER 2016
TRACKS
1. Copyright: All material downloaded is copyright.Unauthorised public performance,broadcasting on any medium (including. radio),hiring,lending,re-selling or copying of this recording is strictly prohibited.All rights reserved. ©2016 Triffique Productions Pty Ltd
2. SAMSUNG ACTION HERO: Agony uncles Arnie and Sly take a call about Samsung's exploding phone. They think the phones could be used against ISIS – drop them all over the desert and wait.
3. LEIGH NAILS BANKS: The host of 7.30  Leigh Nails interviews the CEOs of the Big Four Banks. Leigh is the one with a garlic necklace and a wooden stake.
4. MAL'S APEC SHIRT: Mal Talkbull learns from Pres. Barack O'Bummer that world leaders ditch the weird shirts they get at APEC because they already have enough trouble looking credible.
5. CNN 6.12.16: Sandra Silly with the news, Richard Richard with showbiz, and in sport Big Gazza reports that ex-PM Kevin Rudd has finally got a job – as a middle order Test batsman for Australia.
6. NATURE'S TRADIE: Naturalist David Kittenburger introduces us to the amazing Fluro-breasted Tradie, so called because of its colourful plumage or safety vest.
7. BILL IN TIGHTS: In Sherwood-chip Forest, Bill of Labor alias Robin Who objects to King Malcolm's plan to send refugees to another country, mainly because it was a Labor idea.
8. HATFUL, JOH & POTATO: One Nation Grand Wizard Pauline Hatful, Immigration Minister Peter Potato and Deputy PM Barnaby Joh discuss which foreigners are the worst.
9. GEORGE'S PHOTO: Mal Talkbull congratulates the National Party's Gorge Christensen on the magazine photo he posed for. The blue singlet says jobs and the huge stomach says growth.
10. BOB DYLAN CAROLS: After winning the Nobel Prize for Literature, Bob Dylan has released an album of traditional Christmas Carols using his own magical lyrics.
11. BILL'S REPUBLIC: Labor leader Bill Curly can only find one person in favour of replacing Queen Bessie with a republic. It's Shane Warne, who would do anything to get a pom out.
12. MAYHEM FENCE: Mark Mayhem reports on a new security measure for our politicians, a big fence to keep people off the roof of Parliament Grouse because it looks like a grassy knoll.
13. ACTION HERO SANTA: Radio talkback agony uncles Arnie and Sly give advice on how to tell children all about Santa Claus. It's a delicate subject for parents who like their kids.
14. SBS SUBTITLES: SBS TV broadcasts the latest session of parliament, with the darling of SBS, Lip Lip Chin, providing the subtitles.
15. DEAD PARODY SKETCH: Treasurer Blot Morrison complains about a recent purchase, a Hockey economy, which appears to be dead and nailed to its perch. He is assured it's only resting.
16. SARAH v SANTA: In the court of Judge Cranky, Green Party senator Sarah Handsome-Rack sues Santa Claus for making reindeer fly even though they don't have wings.
17. KITTENBURGER TERROR: Naturalist David Kittenburger saves a whale and then goes in search of the rare bearded urban guerrilla, found only in the depths of our suburban jungles.
18. THIS IS YOUR BILL: Labor leader Bill Curly appears on This Is Your Life, recounting how he was fired from his first job in an accounting firm because he was too boring.
19. CRICKET BOXES: Mal Talkbull is at the cricket as a guest in the private box of mining magnate Cruella De Creosote, while Bill Curly is in the private box of Mystery Industries CEO, Mr Hung Long. 
20. BOGAN IMMUNISATION: Davo Bogan decides that young Brock should at last be immunised. It will get him used to having needles so he can get tattoos for his next birthday.
21. SUSWARE BILL DOLL: Hey tired people! Insomnia wearing you out? Then you need Susware's amazing new Bill Curly Doll! It looks and sounds so much like Labor leader Bill Curly that you'll be asleep in seconds!
22. ALEX & GERRY ADAMS: Ex-Foreign Affairs Minister Alexander Bummer writes his autobiography, describing how he met Gerry Adams, a man from somewhere called Sinn Fein.
23. JUDY v DONALD: In front of Judge Cranky, China sues US president-elect Donald Dump for building a wall big enough to challenge the Great Wall of China for tourist dollars.
NOTE: TRACKS ON THIS ALBUM MAY HAVE BEEN PREVIOUSLY BROADCAST AND/OR RELEASED.
COPYRIGHT: All tracks and material ©2015 Triffique Productions Pty Ltd. All rights reserved. All material downloaded is copyright. Unauthorised public performance, broadcasting on any medium (including. radio), hiring, lending, re-selling or copying of this recording is strictly prohibited. All rights reserved.
You'll get 1 file (46.4MB)
More products from doug_e