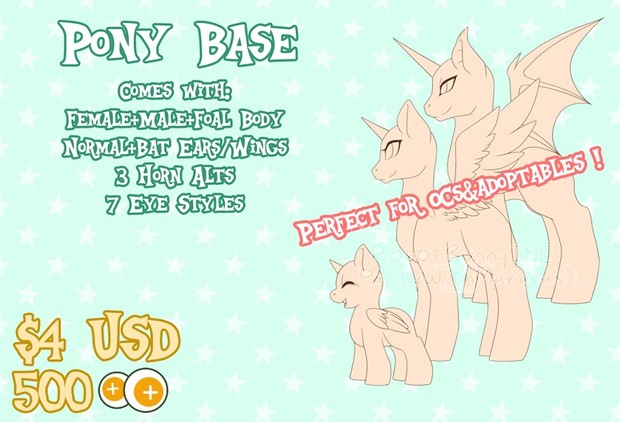 Pony Base
Brand new pony base
---------------------------------------------------------------------------------------
[NOTES]

+This base is a stand alone meaning:
No planned updates
+ Prices vary between DeviantArt (Ponts) and Sellfy (Paypal USD):
DeviantArt
has a 2 week waiting period before transactions can be used. The higher
price on DeviantArt is to encourage the use of Paypal
+ All base sales are final
+ Other users are allowed to make add-on packs for their own sales:
Add-on packs are not allowed to have the original base included
Any add-ons made will be promoted by me to help
+ Edits to the line art are allowed but credit must still be given
+ Redistribution/Reselling of this base is not allowed
+ PaintTool Sai File ver available upon request (Proof of purchase required)
+ Credit is required!

---------------


[PRICES]


DeviantArt
http://fav.me/d9svxvx
500

Sellfy for Paypal
$4 USD
---------------


[SPECIAL OFFER]

Are you the owner of a closed pony species?
Want to have making adopts for your species easier on yourself?

Ask about having base bits added for your personal use!

Price
will be based on how many pieces need to be added to the base,
redistribution to species co-owners/approved adopt makers, etc.
Closed species add-ons will only be available to whoever you approve and will not be distributed for public use.

Please note me for price estimates.

You'll get 1 file (1.5MB)
More products from RobotBunnyInc