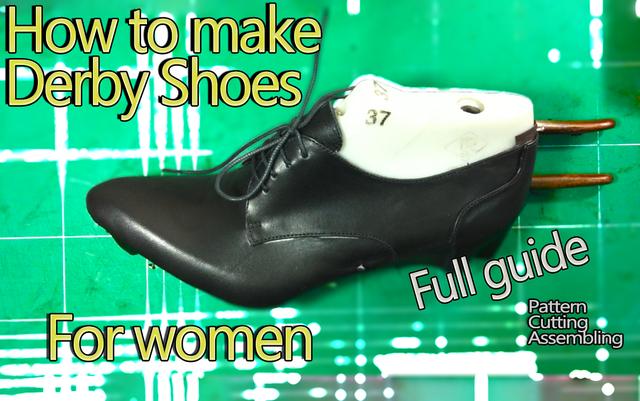 How to make Derby Shoes For Women Full Guide: Pattern/Cutting/Assembling
Derby Shoes For Women Full Guide Pattern/Cutting/Assembling Full step by step tutorial for making derby shoes for women, pattern making, cutting leather and assembling. The guide is accompanied with 5 detailed videos. Table of Contents DRAWING DERBY ON THE LAST 3 BASIC PATTERN 13 DERBY UPPER PATTERN 19 PATTERN LINING 21 LINING PATTERN DETAILS 22 CUTTING LEATHER PATTERN 24 ASSEMBLING DERBY DETAILS 25 "Derby" is a classic model of shoes with open laces, in which side details are sewn to the middle of the central part - of the tongue, which is why remains lose. When the laces are untied, side items freely disperse. In the male "Derby" shoes length of the side parts with laces has exact, fixed measures, and in the female version of "Derby" length of the side details varies according to taste and the design, and has no fixed sizes. Remains the basic characteristic of "derby", the side parts are sewn to the middle of the center, and further detailing changes. Therefore, heel and toe parts can be divided into a variety of decorative items (both in female and male models of "Derby"), as well as handling the seam has a variety of options. I'll show you how to make a female model "derby" with decorative division of details in the heel, with heel height 75 mm.
You'll get a 1.1GB .ZIP file.
More products from Svetlana Kletina