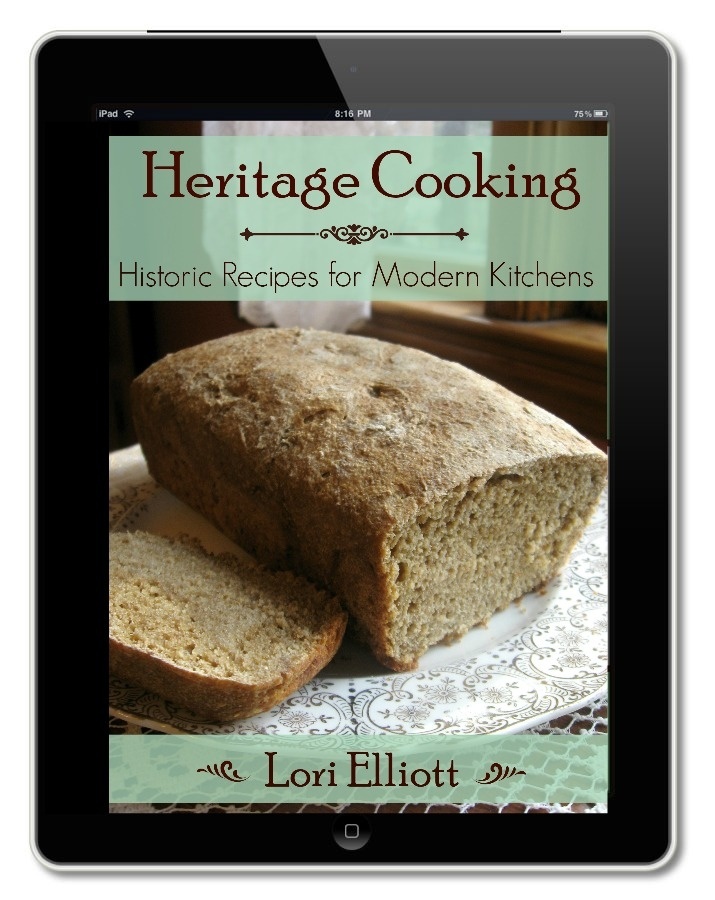 Heritage Cooking - Historic Recipes for Modern Kitchens
Travel back in time to an era of home-cooked meals made from scratch with nourishing, real foods. Each of these historic, 19th century recipes has been adapted to be simple to prepare in any modern kitchen. With recipes ranging from breakfast dishes to hearty stews, from homemade breads to rich deserts, this cookbook is perfect for anyone who loves history and for anyone wants to return to the simplicity of traditional, old-fashioned home cooking.

This cookbook includes 40 historic recipes, all sourced from antique cookbooks from the mid-19th century. The original recipes are included along with modern adaptations to make the recipes easier to follow for modern kitchens with standardized measurements and oven temperatures.

The recipes focus on using the sort of traditional ingredients that would have been commonly used during this historic period with an emphasis on natural and organic produce, humanely-raised pastured animal products, and properly prepared grains. Recipe categories include: breakfast dishes, breads, soups and stews, side dishes, main dishes, desserts, and cakes and confections.

From this cookbook you will learn:
* How to source traditional ingredients, and how to make substitutions for ingredients that may be difficult to find.
* How to prepare old-fashioned staples such as soups made from homemade broth and easy, over-night sourdough bread.
* Why 100% whole wheat flour is not as traditional as it may seem.
* How to make historic favorites such as buttermilk biscuits, apple pandowdy, and Concord spy cake.
* How to follow your intuition rather than having to rely on precise measurements.
* How to convert antiquated old recipes to modern recipes so you can bring your family heirloom recipes back to life.
You'll get a 8.9MB .PDF file.
More products from Our Heritage of Health