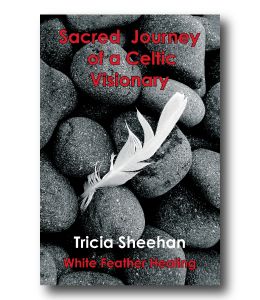 Sacred Journey of a Celtic Visionary by Tricia Sheehan
Download a copy of Tricia Sheehans book 'Sacred Journey of a celtic Visionary' in PDF format. The book is 216 pages long and a sample reading can be found on her website.

This is the powerful story of the birth and journey of a gifted 'Visionary' healer and the development of her gifts and insights along the way. The story spans, from her first breath on the West coast of Ireland, to her unfolding childhood and life on the East coast. What sets this tale alight is the authors 'Visionary' gift, which draws the reader directly and vividly into the heart of her journey. Her story belongs to all of us and so as the pages turn we can clearly see images of our own lives revealed. What sets this story apart is the authors 'Sensitivity' to the people and events that have shaped her life, along with the development of her psychic gifts and abilities. Her writing gives the reader an insight into the unseen forces that shape not only her life but the lives of all of us. This is a book written from the heart – it is filled with compassion and understanding and it leaves the reader changed and enriched as the last pages are turned. This book contains the magical ingredients that endure as we follow the river of our dreams. Enjoy this precious journey.
You'll get a 4.8MB .PDF file.