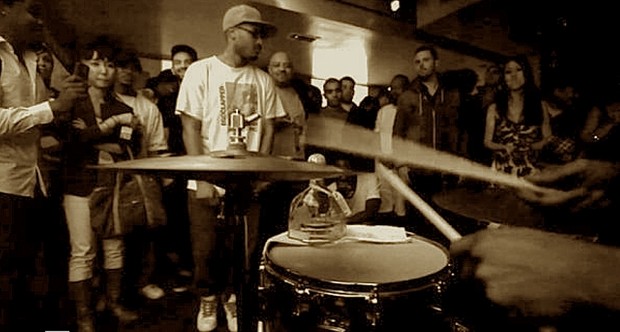 Chris Dave 'Listening Party' Video Transcription/PDF Bundle
CHRIS DAVE 'LISTENING PARTY' 105 RIVINGTON NYC breakbeat grooves
3 of 'Daddy' Dave's impossible? breakbeats now made possible in play-along transcription videos.
Accurate 'expanded' colour coded 3 stave .PDF Drum Charts for easy reading.
Original and half speed (original pitch) break down videos included.
Annotated with all stickings and further guidance.
Sneak preview here:
http://www.youtube.com/watch?v=Ricf0FlW1G8
CHRIS DAVE
BIOGRAPHY
Chris 'Daddy' Dave was born in Houston Texas. Influenced both by Jazz greats as well as contemporary Hip-Hop artists, he has become one of the most sought and talked about drummers of his generation.
Working with credible underground Artists such as bass player Meshell Ndege Ocello and hip hop/ Jazz pianist Robert Glasper, Chris continues to stun us with his virtuosic talents.
His expanding resume speaks volumes:
Kenny Garrett, Terrence Blanchard, Wynton Marsalis, Pat Metheny, Me'shell N'Degeocello, TLC, Toni Braxton, Kevin Mahogany, Kim Burrell, Mos Def, Erykah Badu, Common, Maxwell, Talib Kweli, Jill Scott, A Tribe Called Quest, Mint Condition (Janet Jackson World Tour), Vernel Brown, Munyungo Jackson, Romero Lubambo, Dianne Reeves, Otmaro Ruiz, Michelle Williams, Sa Ra, Geri Allen, Yolanda Adams, Soulful Symphony and Reginald Veal, Adele etc.
You'll get 1 file (50.7MB)
More products from Dean McCormick