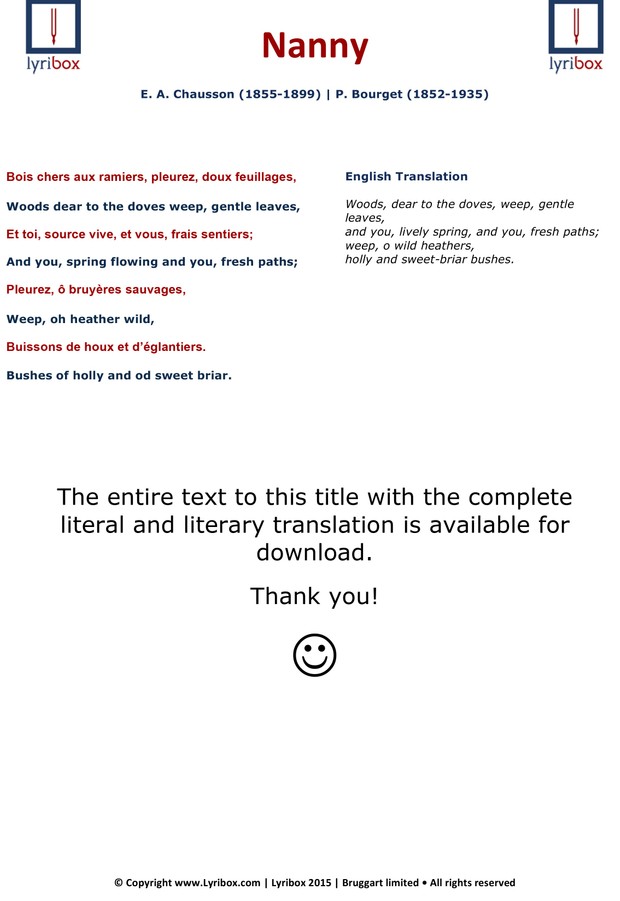 Translation - Nanny – E. Chausson – 7 Mélodies, Op.2
Lyribox music store, the popular online video platform for classical sheet music, accompaniment and translations brings the best of Nanny by Ernest Chausson by offering the sheet music, accompaniments and translations to the fans gathered around the site, for the best price that could be found online. The sheet music, accompaniments and translations provided by Lyribox music store for Nanny are of highest quality and accuracy.

Translation

Music is said to be a universal language, but when delivered in your own language the ability to feel and understand the composer's creation becomes easier. Nanny, which is ranked as the best known works of Chausson's for voice has been translated from French to English by Lyribox music store. Enjoy a beautiful masterpiece of Classical music in your mother tongue. Lyribox music store also offers verse-to-verse translation. These music translations are perfect for music schools, students learning classical music and anyone who has a passion for classical western music. Now you can reserve your Nanny Chausson translation for the lowest price in the market, if your purchase it from this premium online video platform. Besides Lyribox music store has also provided you with two French audio text files of Nanny . One with a normal tempo and the other with a bit slowed version. Based on your preference you can choose the ideal Nanny audio file to adopt the right pronunciation and timing. While the text file with the normal tempo will help you with your timing, the slower one will help you catch the correct French words. To get your song perfect, buy the Nanny audio texts from Lyribox music store now!

You'll get 1 file (87.8KB)
More products from Lyribox Music Store