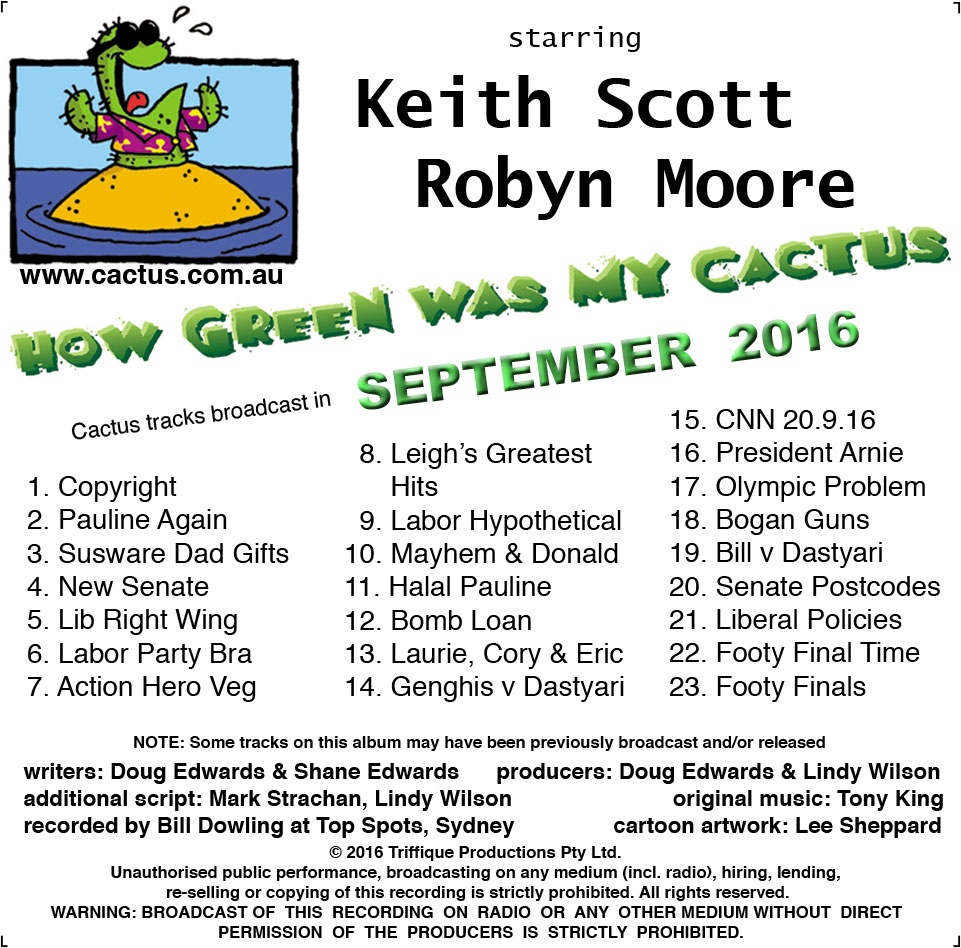 CACTUS - SEPTEMBER 2016
DESCRIPTION
CACTUS - SEPTEMBER 2016
TRACKS
1. Copyright: All material downloaded is copyright.Unauthorised public performance,broadcasting on any medium (including. radio),hiring,lending,re-selling or copying of this recording is strictly prohibited.All rights reserved. ©2016 Triffique Productions Pty Ltd
2. PAULINE AGAIN: New senators Derryn Livershot and Pauline Hatful meet for the first time. Derryn thinks Pauline looks like Ronald McDonald's evil twin sister. 
3. SUSWARE DAD GIFTS: Hey offspring! Not sure what to get Dad for Fathers Day?! Let Susware Online match your dad with the right gift at suswarefatherlovers.com.caymanislands! 
4. NEW SENATE: The first day of the new Senate term descends into mayhem, thanks to Pauline Hatful, Derryn Livershot, Attorney General George Baldness, Cory Bananas and Penny Ping Pong.
5. LIB RIGHT WING: Malcolm Talkbull's right wing opponents suggest that after counting the Liberal Party's losses at the election they'd be better off with General Custer as their leader.
6. LABOR PARTY BRA: Labor's Anthony Albo thinks Bill Curly's increasing popularity among male voters must be because they've seen him jogging in his t-shirt and thought he was Mariah Carey.
7. ACTION HERO VEG: Radio agony uncles Arnie and Sly give advice to a lady who wants to become a vegetarian. Sly wants to know her present star sign and why she wants to change it.
8. LEIGH'S GREATEST HITS: New on DVD from the ABC Shop, Leigh Sales' Greatest Hits! Interviews with people like President Barack O'Bummer, Julia Bizzard and One Nation leader Pauline Hatful.
9. LABOR HYPOTHETICAL: Geoffrey Robertson's Hypothetical asks what would happen if Labor's Bill Curly had won the election. The first thing Bill did was fall off his chair.
10. MAYHEM & DONALD: Political super-gob Mark Mayhem interviews US presidential candidate Donald Dump, a bald man with a guinea pig on his head.
11. HALAL PAULINE: Malcolm Talkbull insists that the Ferrari he wants to give Pauline Hatful is not a bribe to gain her support, but Pauline points out that she 'was not born in the last shower'.
12. BOMB LOAN: Local terrorist Osama bin Wheelie asks his bank for a loan to buy bombs and backpacks. The manager is worried because suicide bombers are notorious for loan defaults.
13. LAURIE, CORY & ERIC: Laurie Bloats, the 3 wise men of politics, interviews Senators Cory Bananas and Eric A'boofhead, a morals crusader who even covers up the skin on his Milo.
14. GENGHIS v DASTYARI: Genghis has his say on Scam Dastyari's donation from the Chinese. It can means only one thing: two hours later he'll want more.
15. CNN 20.9.16: News, showbiz and sport. After the Scam Dastyari scandal, Mal Talkbull has banned foreign donations to all political parties except the Liberal Party. How's that for innovation?
16. PRESIDENT ARNIE: President Barack O'Bummer receives a visit from actor Arnold Schwartzenator. Arnie wants to be the President even though he was not born in America.
17. OLYMPIC PROBLEM: Malcolm Talkbull wants to discuss our lack of gold medals at the Olympics with his Minister for Sport. If only he knew who his Minister for Sport is. 
18. BOGAN GUNS: Young Brock Bogan finds his father Davo's .303 rifle behind the couch. Brock wants to shoot the next door neighbour's car but Davo won't waste a bullet on a Ford.
19. BILL v DASTYARI: Thanks to Scam Dastyari's acceptance of Chinese cash, the Labor Party can't even be seen with a dim sim without looking dodgy.
20. SENATE POSTCODES: Morals crusader Senator Bob Knob outlines his plans to put pants on animals in the zoo and eliminate unsavoury postcodes.
21. LIBERAL POLICIES: Malcolm Talkbull seeks Senate-conquering policies from his colleagues at his sprawling country tax minimiser, The Plunderosa.
22. FOOTY FINAL TIME: Big Gazza Roidman shares his tips for watching the footy finals at home. Tip number 1: if you buy a tv set that can fit throught the door of your house, it's not big enough.
23. FOOTY FINALS: Malcolm Talkbull gets into the spirit of the footy finals season by removing his tie. The last time Mal had his tie off was when he'd been mugged at the beach and had it stolen.
NOTE: TRACKS ON THIS ALBUM MAY HAVE BEEN PREVIOUSLY BROADCAST AND/OR RELEASED.
COPYRIGHT: All tracks and material ©2015 Triffique Productions Pty Ltd. All rights reserved. All material downloaded is copyright. Unauthorised public performance, broadcasting on any medium (including. radio), hiring, lending, re-selling or copying of this recording is strictly prohibited. All rights reserved.
You'll get a 45.5MB .ZIP file.
More products from doug_e