MIDIGrade 2.0: Controller Solution for DaVinci Resolve 16
Important. Physical controller by DJ Techtools is not included in the purchase and refunds are not provided after downloading MIDIGrade.
***
DaVinci Resolve has been on the rise for not only its color grading capabilities which outperforms most of the other available software out there but it has started to become the go-to NLE system for many editors now too. But while software is as accessible as it is, the controllers for them have not developed in features and affordability at the same phase. Getting a fully featured controller has meant investing up to thousands of dollars in them yet they still have been bulky and lacking in customisability.
MIDIGrade is here to change that.
Combining the power of robust DJ hardware, powerful MIDI software and some clever programming - I present you
the ultimate color grading controller solution for DaVinci Resolve on a budget
!
I got the idea for MIDIGrade from my own need to have a more responsive feeling to color grading which a proper controller could bring you. My goal was to create a feature-rich controller with minimal form factor and the performance which suits even the most professional needs. I have since visited many professional grading suites comparing all types of controllers from the top brands and implementing that knowledge into my vision. MIDIGrade today is the product of constant refining since its first launch in the early 2016 and it pushes the definition of what a color grading controller can be.

Now since version 2.0 released in 2018 for DaVinci Resolve 15, MIDIGrade is boasting with
113 different DaVinci Resolve features it can manipulate out of the box
making it totally unique in the color grading controller market!
Here's the best part: another world-first is that you can now
use MIDIGrade with your keyboard and mouse or trackpad only
meaning you can achieve the same speed and convenience as you would with the physical controller but now without the need to purchase one!
Be sure to watch the video above to see MIDIGrade in action!
More videos are available at:
www.youtube.com/julious_dop
---

MIDIGrade requirements that are not included in the purchase:
---


About the mapping:
I have set up the knobs so that it resembles how settings are laid out in DaVinci Resolve 15. For example if you look at Hue in HSL Qualifiers, it has 4 settings in top row. This means it's most logical to set the 4 knobs on top row of MIDIGrade layout to have these same 4 functions in that same order. This same philosophy has been implement thorough MIDIGrade programming making it as easy as possible to start working with and fast to master.
Sometimes while choosing which settings to cover there were more settings than there are knobs available on the controller. In these situations I have opted to choose the most commonly used functions in DaVinci Resolve and include just them into MIDIGrade so that a clear, logical pattern will be kept intact. I believe for your workflow it's much more important to have a little less functions but in the easy to access places than to cram all the DaVinci Resolve's features into MIDIGrade and end up with a mess. Still, there's tons of adjustments covered, more than even most more expensive controllers are able to manipulate!
New MIDIGrade keyboard functionality has been made available in the version 2.0. It uses the same 4x4 knob layout for all of its functions. With keys §, 1, 2, 3, 4, Q, W, E, R, A, S, D, F, Z, X, C, V, Left Shift, Left Control and Left Option you can conveniently rest one hand on these keys and use your other hand to control the functions with either keyboard keys U, I, O or using your mouse or trackpad. So now for example you can use MIDIGrade with your laptop only without any accessories!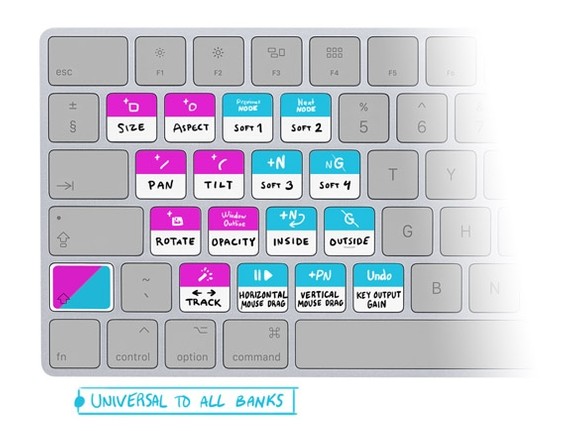 ---
About the author Julius Koivistoinen:
I'm a cinematographer based in Helsinki and my specialisation is currently in medium to large-scale TV commercials. My filmmaking career started as a director in 2012 and have since worked in all departments until arriving to the head of camera department. I started color grading from necessity since there wasn't anyone else to help me on that and I fell in love with that process. Having a background in photography I was fully aware how well graded images can make or break them but what came to me by full surprise was how much more fun and creative grading video is comparing to editing stills. I love sports - especially climbing and running -, nutritious foods and having a good laugh with my fiancée.
You can follow me at 
www.instagram.com/julious_dop
. To see my latest work you can visit my online portfolio at 
www.juliuskoivistoinen.com
.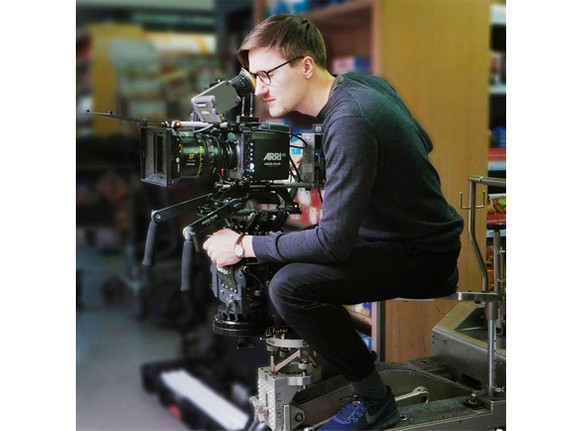 ---
FAQ:


Why do you charge for your plugin more than the needed software costs?
I have spent many many many hours (500+) programming this whole setup and figuring out how to get it work in the first place. These methods used here were not off-the-shelf solutions but instead I had to come up with my own mapping and how to get it to work. This has been developed keeping professional needs in mind and my top goal was to provide you with an out of the box ready solution that works straight away with your screen resolution. Covering these resolutions has been a very tedious work (3000+ individually mapped mouse coordinates) and by purchasing this you are probably saving many times the amount spent anyway than if you started from scratch yourself - though I wouldn't be there stopping you either! ;) Also, by purchasing this once you will get the future updates free of charge covering newly added screen resolutions and ultimately any layout changes DaVinci Resolve may go through in it's next versions.
Why Midi Fighter Twister controller?
I have seen many different solutions other people have built upon other MIDI controllers but none of them were as user-friendly, compact sized and intuitive to use as I wanted. Midi Fighter Twister by DJ TechTools is initially a product built for DJs by DJs and the beauty of that lays in the knobs' functionality. Since they work as turnable knobs as well as buttons you basically save already half of the surface area needed in that simple solution. Add to that the banks too and now we already have 96 functions available right there at your fingertips. What I realised very quickly after starting figuring out the mapping for this specific MIDI controller was also that in DaVinci Resolve many buttons are divided into groups of 2 or 4 buttons. This means that Midi Fighter Twister is ideal for controlling DaVinci Resolve for it's 4x4 knob layout. Other specs which are great about this controller are that it's lightweight, extremely portable, durable, has it's own software, customisable colored lights and it works with a single USB cable.
Is MIDIGrade compatible with other controllers like Blackmagic Design Micro Panel or Tangent Ripple?
It is! Because MIDIGrade doesn't have to be enabled as a controller in Resolve for it to work that leaves you with the option to add another controller alongside it. Here is a video showing MIDIGrade and Tangent Ripple together: https://youtu.be/Wy4Pbs9Fibs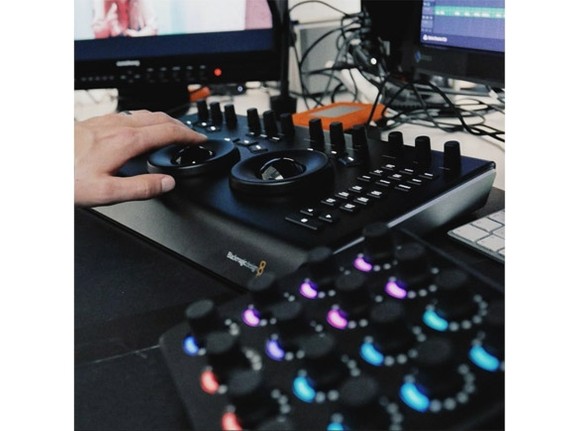 Can I turn multiple knobs simultaneously?
That's a no. The function of the knobs is based on ordering your mouse to move - clicking and dragging - pixel-accurately on your screen lightning fast so manipulating multiple knobs even slightly at once or moving your mouse while adjusting a setting may result in unwanted jerkiness and make it seem like the the functions aren't working. You can control both MIDIGrade and a controller from other brand at the same time though.
Does MIDIGrade work with the Free version of DaVinci Resolve?
It does! I have developed this with the Studio version but it being virtually identical to Free version it works with both.
Does MIDIGrade work with older versions of DaVinci Resolve say 12.5 for example?
Yes but not out of the box. To keep things clearer for users I tend to keep files for just the two newest DaVinci Resolve releases included with MIDIGrade. Please contact support (at) midigrade.com to talk about your needs for supporting legacy DaVinci Resolve versions.
Does MIDIGrade work with other software than DaVinci Resolve?
MIDIGrade is specifically custom-built for DaVinci Resolve and will not work with other software out-of-the-box.
Does the Midi Fighter Twister controller work when plugged into a USB hub?
Yes! I have mine plugged to a 4-port USB hub too. NOTE! When updating the firmware don't connect Midi Fighter Twister via a hub because that may cause damage to your controller.
How future proof is this product?
Grading is a passion and profession to me and I use this tool myself daily so I will get everything updated when the need arrives through DaVinci Resolve update or whatnot. When it comes to DaVinci Resolve though, I simply don't know if the Color Page layout would drastically change in the next update and break this mapping. MIDIGrade has been available since DaVinci Resolve version 12 and it's still going strong so here's to hoping that will stay the same. I have already developed my own developer's toolkit for adjusting the mapping in MIDIGrade so updating would be a fast procedure to me. Then the ControllerMate has been around for over 10 years already and is still receiving updates thanks to the large user base it has. And finally the software for Midi Fighter Twister will most likely be updated too as long there are DJs around. So I'd say you are covered!
Is MIDIGrade Windows compatible?
Not yet. MIDIGrade works only on macOS and the reason for that is in the software it runs on, ControllerMate, which is only available on macOS. I am developing a Windows version which will run on a Windows compatible software so definitely stay tuned! More info about Windows MIDIGrade version will hit on my Youtube channel when that time arrives.
I have a problem with setting up MIDIGrade on my system. Can you help me out?
Sure thing! You can contact me in case an issue appears with this mapping and I will do my best to resolve the problem with you! Hit me up at support (at) midigrade.com .
---
How to setup MIDIGrade:
(more detailed instructions included in your MIDIGrade purchase file)

You will need to have
Midi Fighter Twister
MIDI controller (sold separately) plugged into your Mac computer.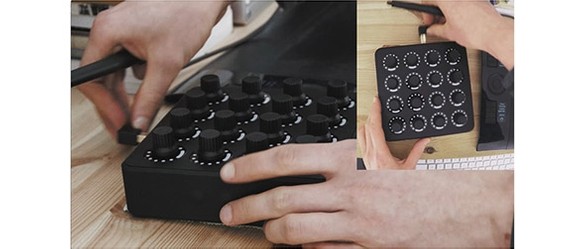 Download and open
Midi Fighter Utility
and import the settings file provided in the MIDIGrade ZIP package. Click
SEND TO MIDIFIGHTER
.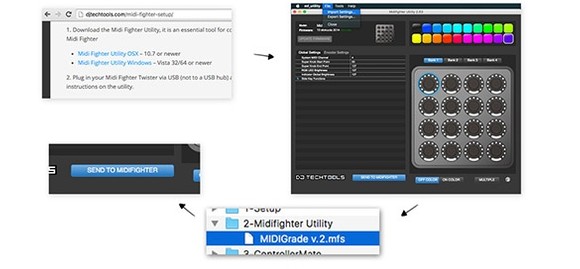 Open your
System Preferences
, click
Displays
, toggle
Scaled
resolution, mouse-over the resolution your monitor is running at (bordered in blue) and you will see a text "
Looks like XXXX × YYYY
" text underneath the monitor picture. Keep this number in mind since you will need it in the next step.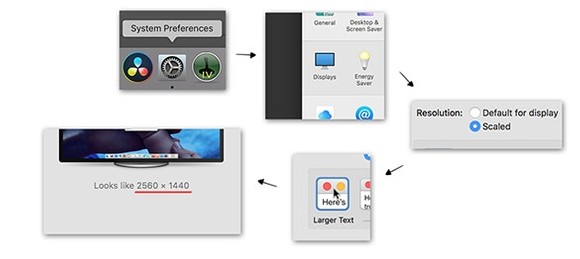 Purchase, download and open fully licensed
ControllerMate
. Import the .cmate file provided in the MIDIGrade ZIP package. In this newly imported item open the Programming Group "
2: Monitor Resolutions
" and enable the correct Page for your monitor setup.
Save and quit ("
Cmd + Q
") ControllerMate. Note that the program will perform mouse clicks only after it is fully closed.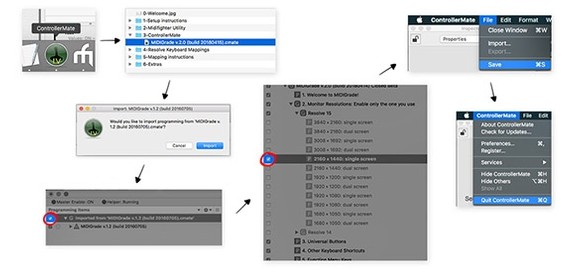 Open DaVinci Resolve and open either an empty or one of your already existing projects.
Open
Preferences
, select
User
submenu, select
Keyboard Mapping
, import New Keyboard Preset, select file "
MIDIGrade 2.0.txt
" in folder "
4-Resolve Keyboard Mappings
", name the new keyboard preset however you like, click OK and finally be sure to click Save.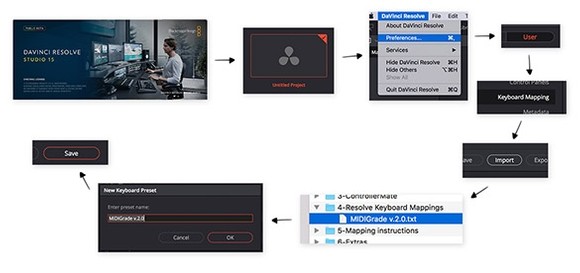 That's it. You are DONE. Enjoy grading!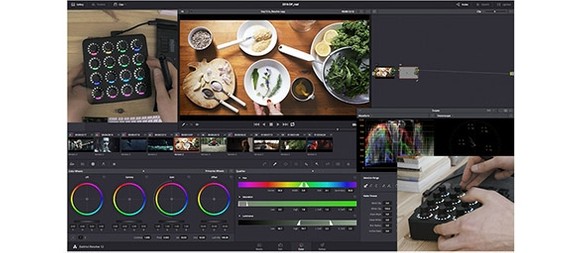 Alternatively if you wish to use MIDIGrade without the controller simply skip steps 1 and 2, and finish with this additional step:


Now to enable keyboard controls you will need to press "
§ + Left ⌥
" and you will hear a "ding" sound as a confirmation for it taking to affect.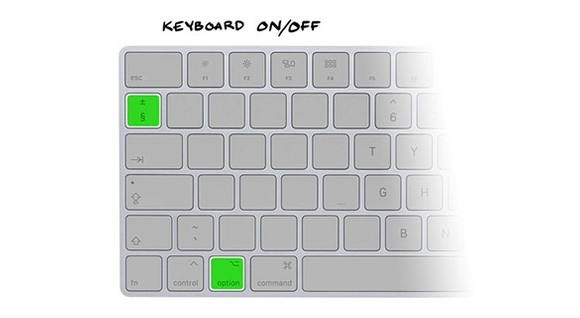 That's it. You are DONE. Enjoy grading with your keyboard now!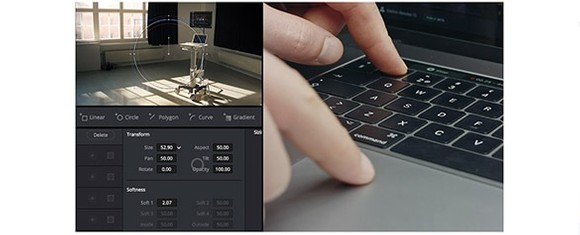 ---
Update history:
January 2020: Happy New Year 2020! Compatibility for MacBook Pro 16" added. Please note ControllerMate isn't working on Catalina yet and so upgrading your macOS to that isn't recommended. Catalina update for ControllerMate is in development.
May 2019: Resolve 16 Public Beta has been tested and appears to be working with the current MIDIGrade version without issues!
February 2019: MIDIGrade's Primaries Bars function has received a significant performance update and work more reliably now.
January 2019: Happy New Year 2019! MIDIGrade performance optimised further, macOS Mojave compatibility improved and setup instruction files updated.
December 2018: Improved keyboard functionality and keyboard calibration. Added support for new ultra wide monitor.
July 2018: General bug fixes.
June 2018: Added compatibility for several different keyboard models.
May 2018: MIDIGrade version 2.0 is finally out! This major update has been in works for more than six months and brings huge performance improvements, cool new features and a brand new keyboard functionality with it. Now you don't even need to have the controller anymore to use MIDIGrade! Learn more about this update here: https://youtu.be/AkFdn6wOql4
November 2017: Added support for Resolve 14 on 4K iMac Retina, 5K iMac Retina and 15" MacBook Pro single monitor
October 2017: MIDIGrade is now compatible with Resolve 14 in highly requested screen resolutions. Development of new MIDIGrade version continues.
August 2017: Started rolling updates to make MIDIGrade compatible with Resolve 14 by adding 1920 x 1200 single monitor resolution.
March 2017: Added support for 4096 x 2160 single monitor resolution and 3840 x 2137 dual monitor resolution.
January 2017: Added support for 3840 x 2400, 3360 x 2100, 3840 x 2160 and 1280 x 1024 single monitor resolutions.
December 2016: ControllerMate has finally been updated and the problem causing issues with MIDIGrade on macOS Sierra has been fixed! Be sure to update your ControllerMate software to its newest version 4.10. Support for 3440 x 1440 single monitor resolution has been added.
October 2016: The new macOS Sierra has major issues with ControllerMate at the moment. Starting from today I'm gradually rolling out MIDIGrade updates with temporary fix to each screen resolution. Please contact me if you'd wish for me to prioritize your setup in the next batch and I will do so.
September 2016: Improved compatibility with Resolve's newest 12.5.2 version. Support for 3840 x 1200 single monitor resolution has been added. Also various performance improvements.
August 2016: Honored to have MIDIGrade featured on No Film School, the resource for my filmmaking news and knowledge since 2014: http://nofilmschool.com/2016/08/midigrade-brings-diy-color-grading-hardware
July 2016: MIDIGrade version 1.2 full release now available! It is fully compatible with DaVinci Resolve 12.5.
May 2016: MIDIGrade version 1.2 Beta compatbile with DaVinci Resolve 12.5 Beta is now online. Added support for 1920 x 1200 single screen resolution.
Apr 2016: Added support for 3840 x 1200 dual screen resolution.
Mar 2016: New feature! Thanks to user feedback a new universal button has been added to bottom row, second knob: Pause / Start Playback. Also tracking in Bank 1 is now accessible by turning the knob and Highlight has been added to Bank 3. Added support for 3840 x 2440 and 3440 x 1440 single screen resolutions.
Feb 2016: MIDIGrade version 1.1 is now online! See the new features demonstrated here: https://vimeo.com/155662895 Added support for 6400 x 3600 single screen resolution and 1920 x 1200 dual screen resolution.
Feb 2016: I am currently working on an update which brings not only Primaries Bars into MIDIGrade but also has huge performance improvements based on the feedback I got from early adopters! This and future updates are free for those who have already purchased MIDIGrade. ETA for this update is next week. A video will be posted alongside the update when it's ready.
Jan 2016: I have received requests for implementing Primaries Bars' Lift/Gamma/Gain/Offset controls for each channel Y/R/G/B. Adding this is totally plausible since there's still a 4th Bank unused and 6 side buttons in total so one of them can easily be programmed for getting into that Bank 4. I will add this feature in an update which will be ready later in February 2016!
You'll get 1 file (9.9MB)