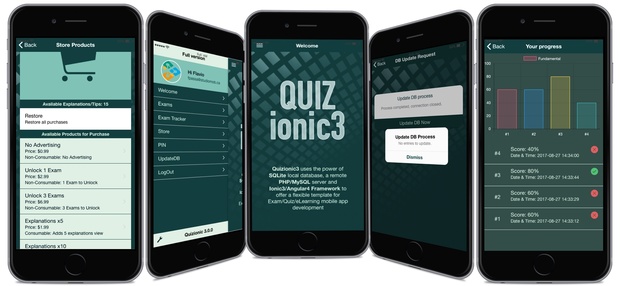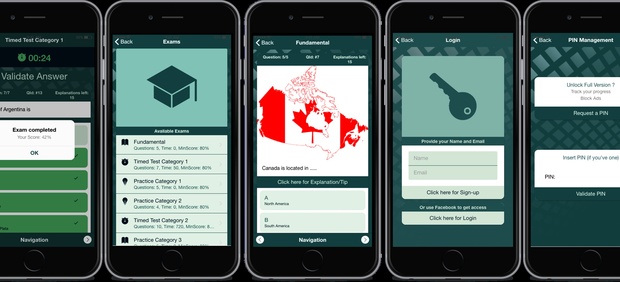 Quizionic3 - The Best and Complete Ionic3 Quiz App Template w/local SQLite DB & PHP/MySQL backend
Updated: New Version 3.2.5 uploaded April 28th, 2018
1. Fix an issue that prevented scroll content to be visible when navigation buttons where present in a multi-answer question.
Version 3.2.4 uploaded April 23th, 2018
1. Fix an issue that prevented Login page to work as expected.
2. Fix backgroun color in Menu Header for Android devices
3. Remove NativeStorage for local storage. Now replaced by SQLite.
Version 3.2.3 uploaded April 20th, 2018
1.     Updated package to compile and work with Cordova 8.0.0 and Android version 7.0.0
2.     Added Crosswalk plugin
3.     Updated versions of all plugins and libraries for Cordova and Ionic
4.     Removed Storage plungin and replaced by NativeStorage
5.     Updated Chart.js installation library and removed the old js files under src/assets folder
6.     Updated Resources files as per latest version of Cordova.
7.     Replaced AdMob plugin to allow compilation on Cordova 8.0.0
Version 3.2.1 uploaded Dec 18th, 2017


Added ActionSheet option in Developer page to switch between actionSheet or Alert for Explanation text.


Added Shuffle option in Developer page to Enable/Disable the shuffling of answer options.


Previous version 3.1.3


Added Exam Result Review Page to display user score and question by question results after exam with doughnut chart representing correct/incorrect/noanswered


Added store parameter in Config table and Developer page to Enable/Disable Store access


Added resultPage parameter in Config table and Developer page to Show/Hide Exam Result Review Page at the end of Exam


Added autoQuestionJump parameter in Config table and Developer page to Enable/Disable auto navigation to next question after user response


Added previousBtn parameter in Config table and Developer page to Enable/Disable display of previous button when Navigation is available 


Fixed an issue that prevented to display correctly the unlocked exams in Free Version


Added an alert to advise user when an Exam is unlocked when passing the score of Exam.


Fixed an issue that produced a crash when achieved the last question and clicking out of the alert and hitting the previous button from navigation bar.


Added DBSynchDate configuration in Developer Page


Added onlineProgress and SubmitProgressDate configuration in Developer Page


Previous version 3.1.3


Added remote progress database (MySQL) server support feature to store user scores in a remote server.


Added aap-config.ts file to facilitate the configuration of general parameters used by Quizionic App


Added resources images to work with iPhone X version


Changed AdMob library and Quizionic code to support AdMob-Free lib


Updated Quizionic code to work with of Rxjs 5.5.2 version lettable-operators 


Updated config.xml and package.json files to work with Ionic 3.9.2 and Angular 5.0.0


Renamed database file as Q3data.db as well as changed all products IDs names prefix as quiz3


Uploaded productsIDs in Itunes Store to test in-App-purchase with new productsIDs for Quizionic3 version


Quizionic3 is an app template developed in Ionic3 Framework with local SQLite database and PHP/MySQL backend server with plenty of integrated Cordova plugins such as: Facebook login, Google Admob, Google Analytics, In-App-Purchase and Chartjs/Momemnts.js libraries.
This android and ios app template helps developers to reduce time when building database-driven applications suchs as Quiz, Exam Simulators or eLearning mobile apps.
By using this mobile development approach, developers reduce significant time when dealing with hybrid Cordova mobile applications and backend server side.
This template illustrates the use of:
- In App Purchase Cordova plugin
- Facebook Cordova plugin used for login
- Google AdMob Pro Cordova plugin
- Google Analytic Cordova plugin
- InAppBrowser Cordova plugin used to open external website pages inside the mobile application
- Typescript observables and promises
- LocalStorage as well as SQLite/WebSQL pre-populated database
- Remote database MySQL (1 for PIN Management, 1 for content synchronization) with PHP scripts support for webservice
- HTML5/CSS3/SASS code for visual representation
- Chartjs and Movements.js libraries for animated chart visualization
- Separated DbService and StoreService providers to support common functions to interact with local/remote databases as well as stores like: Itunes and Google Play Marketplace
- Developer page, a quick and effective way to test your app on the fly by accessing to parameters that modify the way the app behaves.
- App can be tested in Chrome and Safari browsers (with the except of Facebook login and In-App-Purchase - this is simulated under browser).
- Intendeed for Android and iOS devices, it can be also adapted to Windows ones.
In addition, this package comes with 2 PDF manuals (around 90 pages) plus 1 HTML file for installation instructions.
Demo APK: 
https://play.google.com/store/apps/details?id=com.studiomob.quizionic3&hl=en
You'll get 1 file (161.8MB)
More products from StudioMob Canada