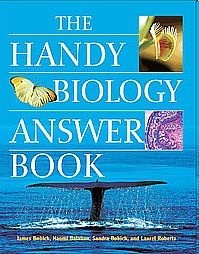 The Biology Handbook
Cloning. Stem-cell therapy. Genetically modified food. Forensic DNA profiling. These are just some of the hot-button political and medical issues explored in "The Handy Biology Answer Book." "Handy Biology" answers more than 1,600 questions in plain English on all aspects of human, animal, plant, and microbial biology. You'll also meet the scientists behind the breathtaking advances.
In this informative, wide-ranging, and entertaining book, you'll find answers to such intriguing questions as: What are the potential uses of stem cells? What are DNA and RNA? How did humans evolve? Can two blue-eyed people have a brown-eyed child? Is obesity inherited? What is Frankenfood? What is the importance of the rain forest? Does antibiotic soap really help reduce infection? What is the most dangerous poison produced by a plant? What is bioterrorism?
From the authors of the bestselling "Handy Science Answer Book," "Handy Biology" is organized in sixteen chapters with nearly 100 illustrations and 150 tables and charts. A chronology lists major accomplishments and milestones in biological research, and a resources section lists books, periodicals, and Web sites where readers can explore each subject in greater depth.
Browse and download thousands of educational eBooks, worksheets, teacher presentations, practice tests and more at
Examville.com
- The Education Marketplace (
http://www.examville.com
)
You'll get 1 file (23.4MB)
More products from Examville