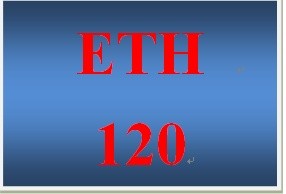 ETH 120 Week 3 Historical Report on RaceEthnicity
ETH 120 Entire Course Link 
https://uopcourses.com/category/eth-120/
ETH 120 Week 3 Historical Report on Race/Ethnicity
Select
 one group from Chapter 9, 10, or 12 from this week's readings.
Write 
a 500- to 700-word paper from one of the following perspectives:


A historian writing about the group in the book chapter


A news reporter writing a newspaper article or blog entry about the group


An individual member of the selected group writing a personal letter to a friend who is not a member of that racial group


Answer
 the following:


Summarize the experiences of this group throughout U.S. history.


Identify factors that have had both a positive and negative effect on the selected group.


Summarize remaining existing challenges and inequities this group faces today.


Format
 the paper consistent with APA guidelines.
Submit
 the assignment to the Assignment Files tab. 
You'll get 1 file (20.1KB)