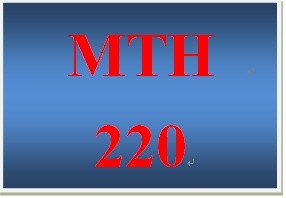 MTH 220 Week 5 participation College Algebra, Ch. 8, Section 8.3
MTH 220 All Participations Link
https://uopcourses.com/category/mth-220-participations/
MTH 220 Week 5 participation College Algebra, Ch. 8, Section 8.3
He Said...She Said
Suppose a rumor is spread by first one person telling another individual and then the individual telling two other people. 
Each person in turn tells two other people. 
Can you consider this an arithmetic or geometric sequence?  
Test Your Knowledge 
Please solve the following problems on Page 789 - 790:  32, 37, 42, 53, and 55  
First, read solutions posted by your classmates before you post your own.  
If you disagree with the solution or don't understand a particular step, please provide your comments.  
Moreover, if the problem can be solved in a different manner, please present your method of solving and show your work.
You'll get 1 file (602.5KB)