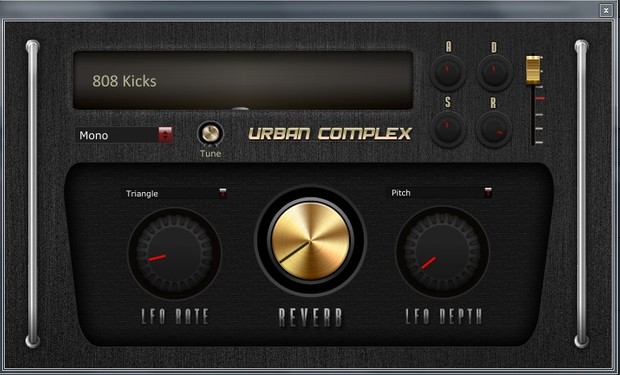 Urban Complex VST for Windows and Mac
Urban Complex delivers truly inspiring sounds for your Hip-Hop, R&B and Urban Pop productions. When it comes to music production, we need dope, inspiring sounds right out the box that can be accessed as quickly as possible. Urban Complex provides a wealth of top quality sounds tailored specifically for urban music production... all in one easy to access plug-in.
We left nothing out! From synths to drums to effects, it's all in the Urban Complex. You won't find another plugin that provides the full range of quality sounds for urban music production.
- Synths
- Synth Bass
- 808 Bass
- Drums
- Percussion
- Effects
- Strings
- Pads
- Bells
- Vocal Chops
- Piano
- Guitar
- More...
The goal was to make a VST that could serve as the ONLY VST you would need to make top quality urban hip-hop and R&B music. Urban Complex is packed with "Real-Deal" sounds... No fluff.
What am I getting?
- Well over a hundred sounds and effects
- Hundreds of top quality current drum sounds (no fluff)
- Full Vocal kits
- VST for Windows, Mac and Mac AU
- Quick loading module + Easy on CPU load
- Simple interface. No learning Curve
- Complete urban production suite
- Free Software updates and Sound extension packs for life!
- Pure inspiration
Sound design by Kamau Duane: Kamau Duane is an urban music producer and sound designer who has produced sounds for multi-platinum producers and producers around the world.
Quick Interface Overview Video:
https://youtu.be/PuNDlPz9LZY
How to install Video (FL Studio/Maschine) :
https://youtu.be/N2etZl60lGY
How to install for Logic users:
Drag Au for mac folder to
Home Folder/ Library / Audio / PlugIns / Components
then restart logic pro
How to install for Pro-tools users:
Pro-tools requires RTAS plugins however, there are programs that allow you to use VST plugins inside pro-tools. Here are a few options...
- DDMF:
http://www.ddmf.eu/products.php
- Video on DDMF:
https://www.youtube.com/watch?v=B2mcnso_JeA
- Blue cat:
http://www.bluecataudio.com/Download/Product_PatchWork-JGAEBEGRFA/
You'll get 1 file (2.9GB)
More products from Kamau Duane