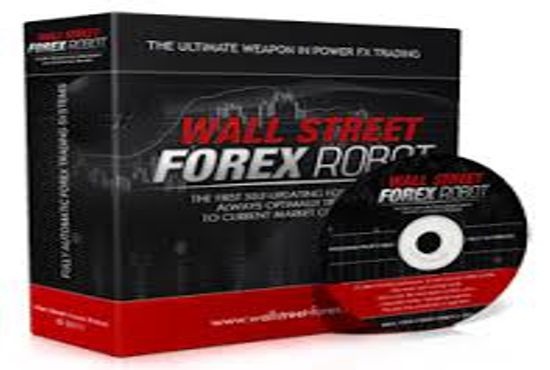 WallStreet Forex Robot v4.6 EA EXPERT ADVISOR FOR MT4
Designed by a group of professional forex traders, the WallStreet Forex Robot has been around since 2011. This powerful EA works with MetaTrader, It has 5 built-in protection systems, a host of optimization parameters, and is able to adapt to different market conditions.
Method It's clear from running WallStreet Forex Robot a few times that it's a scalper that works best on EURUSD, GBPUSD, USDJPY, and USDCHF forex pairs; and to a lesser extent on USDCAD. By 'scalping', it is meant the trading strategy that seeks not to profit from large directional moves but rather to capture one or two ticks here and there and thereby exploit small inefficiencies in the market. And, to its credit, it does this very well.
By utilizing a scalping strategy, the system tends to make an average of 4 or 5 trades per day, building up profit as it goes. According to the manufacturers, the robot is designed to work best using the major pairs and a 15-minute timeframe to place trades. One thing noticed about the WallStreet Forex Robot, as opposed to some of the other EA's on the market, is that it doesn't just scalp over the quieter Asian session. In fact, the EA scalps around the clock and takes trades whenever its conditions are met. This is good for us traders since liquidity is often better during non-Asian hours, meaning the risk of slippage and higher spreads becomes less of an issue.
Past performance The WallStreet Forex website provides a number of historical back tests, some of which have been verified by
myfxbook.com
. As well as these, there's a 12-year back test on USDJPY that shows a profit of over $64,000 with a maximum drawdown of 13.8%, and another showing profits of $12,600 in just seven months. However, most interesting are the live Alpari and Wall Street Forex Robot 500 live demo accounts that have been running since 2010; the latter showing a gain of 455.8% across raw, out of sample data. Again, these accounts have been verified by
myfxbook.com
. WallStreet Forex Robot does indeed show consistent profit with relatively low drawdowns while at the same time using a position size formula that keeps risk consistent during periods of market volatility. The system works best on GBPUSD and EURUSD, which is encouraging really since these are highly liquid and popular forex pairs.
Future performance The future performance of a system is never guaranteed. Indeed, EAs that have the most attractive looking equity curves on historical tests often end up being the worst performers over future data since they have simply been curve fit against the recent data. Pleasingly, this is not the case with WallStreet Forex Robot, which performed well over my out-of-sample tests. For GBPUSD and EURUSD, the average return was 3.6% and 4.2% per month respectively, with an average drawdown of just over 20% for both pairs. This is not as good as the historical tests but it's still pretty good. At this rate, it wouldn't take long to recoup the initial investment of the bot, as long as the strategy continued to perform. In any case, a drawdown of 20% is completely acceptable, especially given the market dynamics over the last couple of years.
Conclusion The WallStreet Forex Robot is easy to set up, comes with lots of customizable settings and includes lifetime support for any issues that might arise from using the software. Though profitability has flattened recently for some pairs, EURUSD, GBPUSD and AUDUSD have continued to show strong profits. As a whole, the system manages risk extremely well. Make no doubt about it, this is a powerful EA and certainly one of the best black box systems tested. A discerning trader with a good grasp of system statistics could make decent profits using this system alone. But there are other options too. Combining the scalping capabilities of WallStreet Forex Robot with a mean reversion or trend following EA could offer another path to profitable trading. Whichever route you choose, the WallStreet Forex Robot is a professional, specialized tool that can likely be harnessed for powerful means.
IYou will receive one WINRAR file. Do not use 7-Zip.
INCLUDES MANUAL
UNLIMITED LICENSE.
High Risk Investment. Trading foreign exchange on margin carries a high level of risk and may not be suitable for all investors.The possibility exists that you could sustain a loss of some or ALL OF YOUR INVESTMENT.
You'll get a 1.1MB .RAR file.