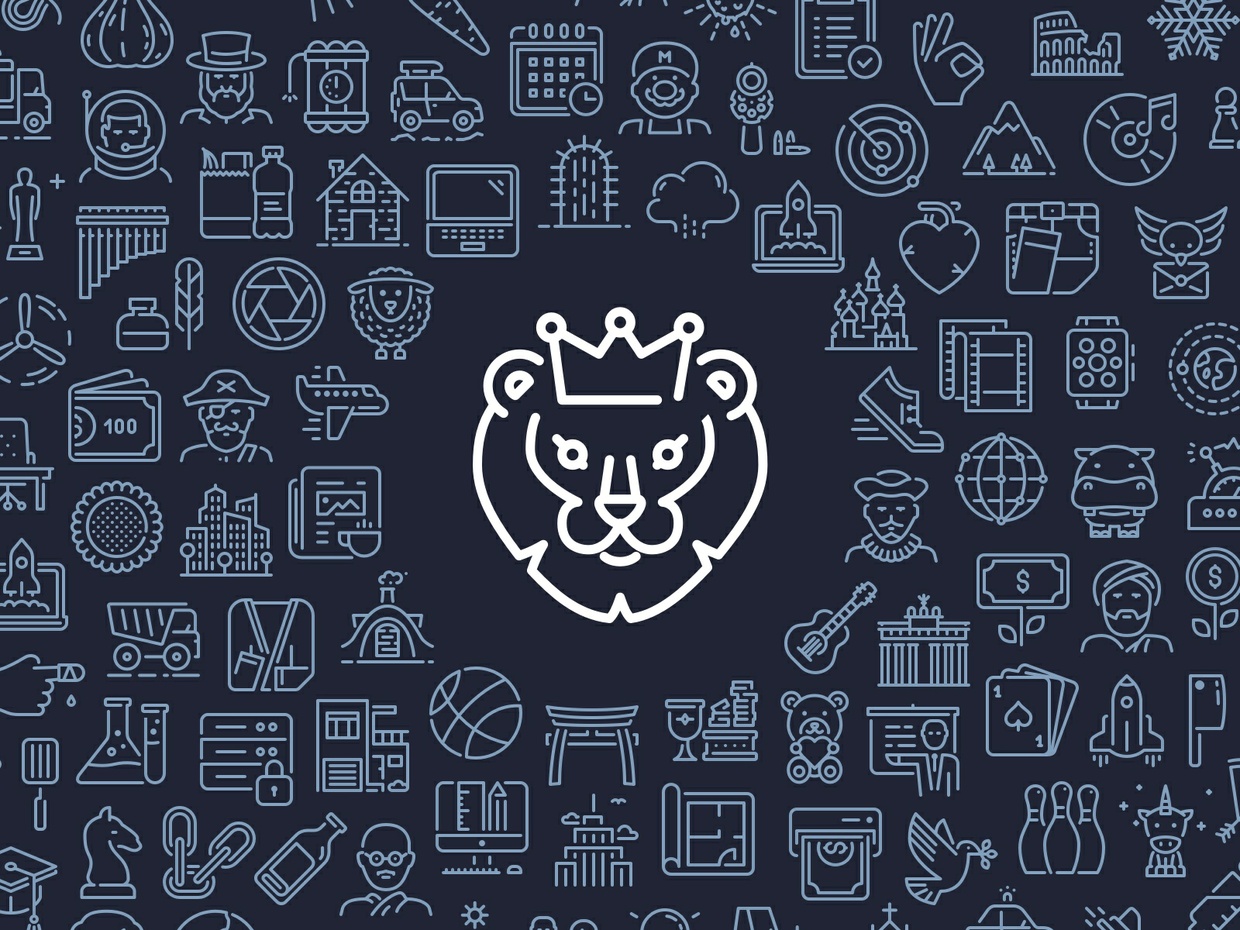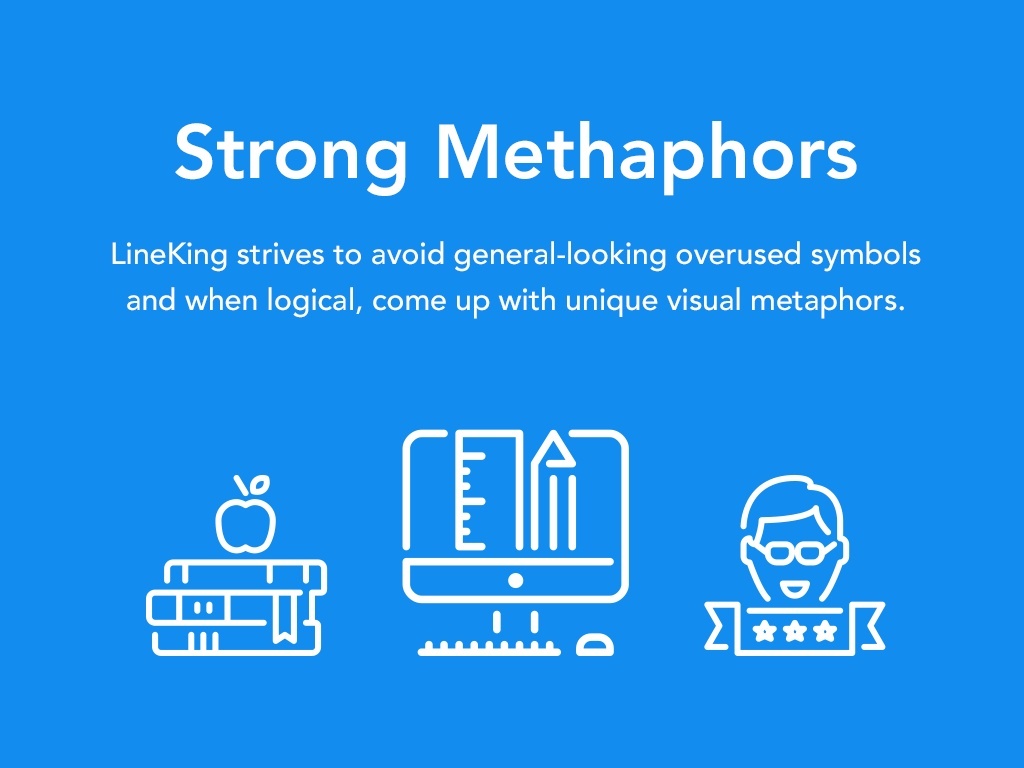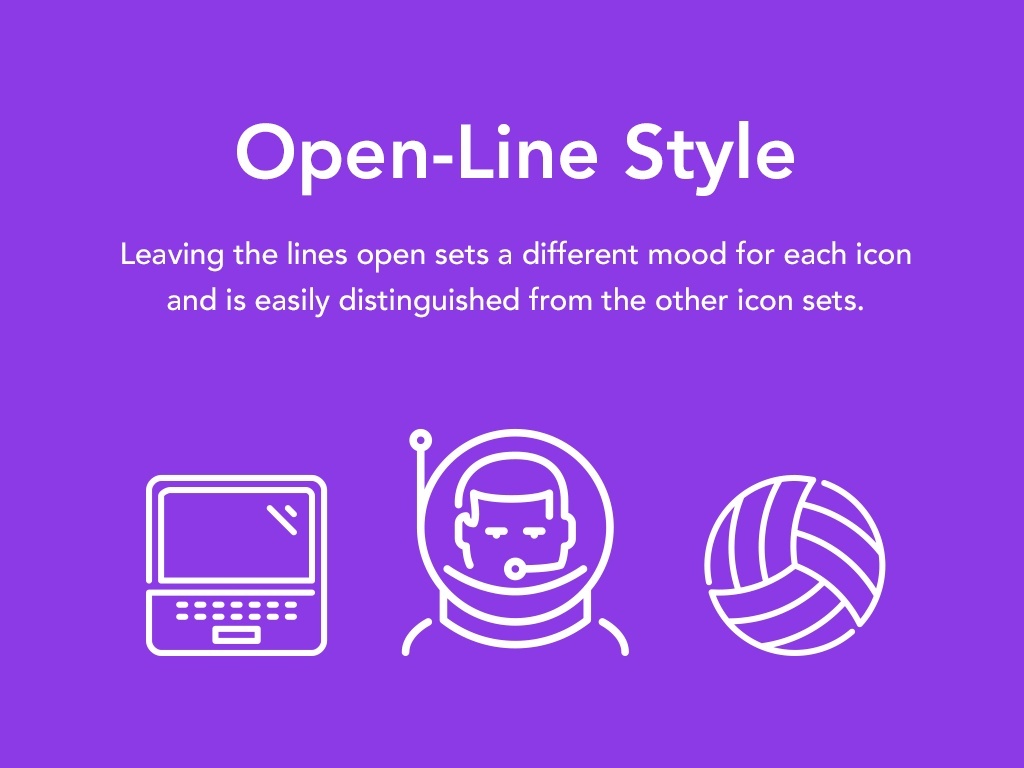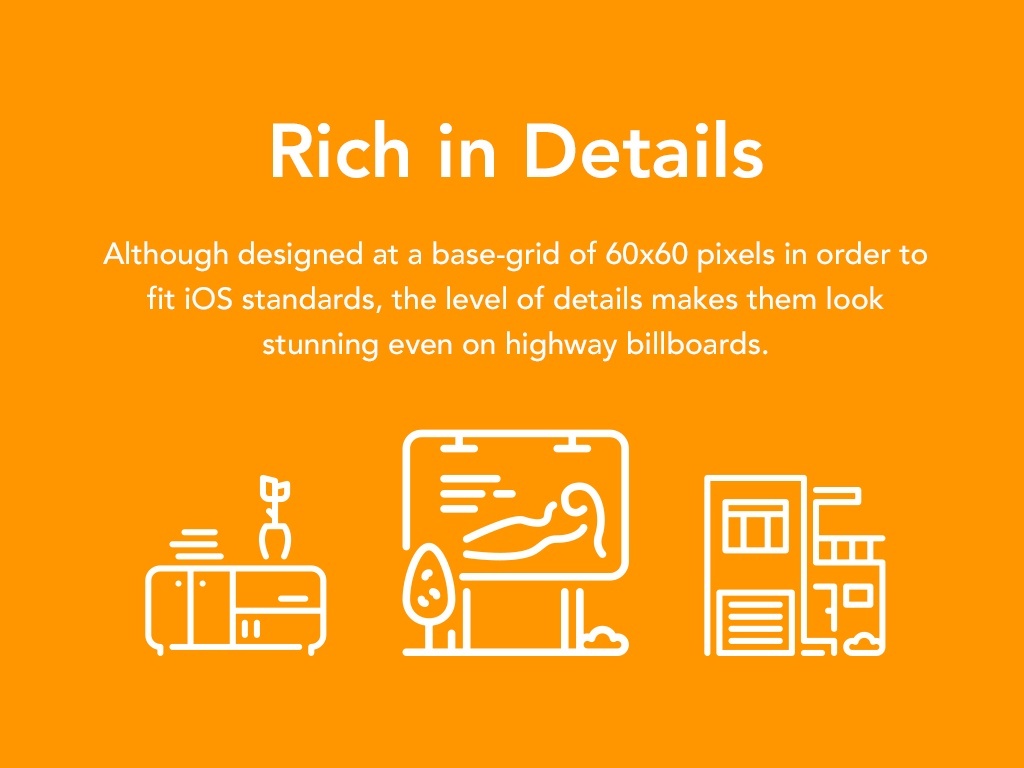 LineKing Icons
A long-time bestseller.
LineKing is proving to be the number–one choice when it comes to line icons. Perhaps because of the richness in details or the unique visual execution… or perhaps both. It'll probably remain a mystery, so I leave for you to tell the story by the way you'll use them.
Many months of experimentation
and trial and error in order to bring out the best visual metaphors. Ideally, the icons should blend so well into your next project, as if they're custom-designed for you.
---
1000 ICONSWhen I say 1000 icons, I really mean it. No silly repetition, no kidding.
They are all categorized into 50 collections, each consisting of exactly 20 symbols, focused on specific niches or industries. Check out the preview of all icons at: 
http://pixelbazaar.com/resource/lineking-icons
---
WHAT MAKES LINEKING DIFFERENT?

Strong Metaphors.
LineKing strives to avoid general-looking overused symbols and when logical, come up with unique visual metaphors.
Quality Over Quantity.
No race for the biggest icon-set. The real challenge is to craft all icons unique in shape and character, without unnecessary repetitions.
Open-line Style.
Leaving the lines open, when done properly, sets a different mood for each icon and is easily distinguished from the other line icon sets.
---
ALL THE PERKS YOU'LL GETThickness Control.
All icons are designed in a way that you can control the thickness of the stroke with only a change in number.
Ultra Consistency.
Level of details, perspective, mood, curve radius… All icons share these atributes equally, making them a one cohesive icon-set. This is really important folks!
Infinite Scalability.
This goes without saying. All icons are designed as vectors, therefore they can be limitlessly scaled and work great at any size.
Unlimited Projects.
You can use the icons in as many projects as you want, as long as you don't use more than 100 icons per project.
Formats for Everyone.
Equipped with all the file-formats you'd expect included: AI (with full stroke control), SVG (web-optimized) and PNG (sliced in 5 sizes: 60×60, 90×90, 120×120, 180×180 & 240×240.)
iOS Optimized.
Oh, and did I mentioned they are iOS optimized? All icons are crafted upon a grid of 60×60 pixels, making them blend perfectly into your iOS app.
---
SPECIAL CATEGORIES
In case you need specific icons for a specific needs, make sure you check out these curated categories:
Feel free to also visit LineQueen (
https://sellfy.com/p/PUZW
 ) an icon-set based on the LineKing icons, but with all the rainbows and unicorns.
---
WITH GREAT ICONS COMES GREAT FLEXIBILITY
By purchasing today, you are making an investment. Since perfection is an never-ending race, LineKing gets periodical updates, fixes and other improvements. To value loyalty , you will receive all future updates for free.
---
FREEBIE


Before going any further, make sure you download these additional 80 icons and get a taste of it.
https://sellfy.com/p/wtUh
---
CHANGELOG


Aug 18, 2015 – Initial release with 500 icons.


Sep. 6, 2015 – Added 100 new icons, now totalling 600.


Oct. 7, 2015 – Added 100 new icons, now totalling 700.


Oct. 20, 2015 – Added 100 new icons, now totalling 800.


Nov. 9, 2015 – Added 100 new icons, now totalling 900. Improved many icon shapes. All icons in the AI files converted into compound shapes for easy font creation. Changed the CMYK black into pitch black.


Nov. 26, 2015 – Completion of all 1000 icons. A couple of icon fixes along the way. A day for celebration!


Mar. 25, 2016 – Included support for IconJar.


June 20, 2016 – Added a freebie of 80 additional icons. https://sellfy.com/p/wtUh


You'll get a 59.4MB .ZIP file.
More products from Pixel Bazaar