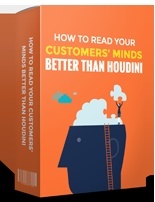 How to Read Your Customers Mind
"Learn How To Read Your Customers' Minds Better Than Houdini!"

This worthy eBook will help you to: 

1. Understand your customers' problems and needs
2. Prove that you have a repeatable sales model (for long term sales and
income)
3. Create and drive end user demand (also known as marketing)
4. Building – that is, transition from learning what your customers want
to executing on what you've learned.

Get free "Master Resell Right" with your Purchase today!
You'll get a 498.7KB .ZIP file.
More products from BestBuy Digital