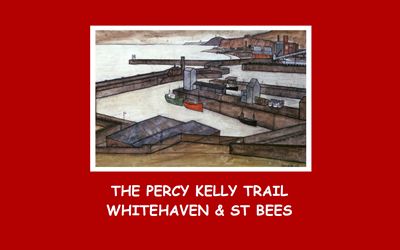 Whitehaven & St Bees Trail
Whitehaven always held an interest for Kelly. It had all the elements that attracted him. Although he was charming, sociable and got on well with people he wasn't interested in them as far as art was concerned. The human stories of smuggling, invasion and kidnap didn't interest him. Mines, factories, docks, buildings, cars and railways fascinated him. This trail takes us round the southern part of the town's coastal area as far as St Bees. Kelly recorded a lot of the mining history exploring the cliff top at Kells which is a honeycomb of deep shaft mines, pits and passages which stretch miles out under the sea. This has preserved the cliff top from development making it a pleasant grassy recreational area. It was possibly Kelly's interest in birds that led him to wander further south to St Bees whose cliffs play host to many rare species of birds and plants. Maybe it was the sheer isolation that drew him to this area.
You'll get a 823.6KB .PDF file.