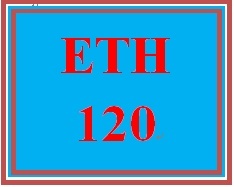 ETH 120 Week 1 Myths and Stereotypes
Entire Course Link
https://zh.scribd.com/document/340327850/Uop-Tutorial
 ETH 120 Week 1 Myths and Stereotypes 
Watch "Myths and Stereotypes," located on this week's Electronic Reserve Readings page.
The video provides examples of stereotypes and prejudices gay people face to face on a regular basis.
Identify two or three stereotypes and prejudices in this video, and provide some possible effects of the stereotypes.
Discuss and respond to your peers.
You'll get a 35.0KB .DOC file.
More products from UopTutorials