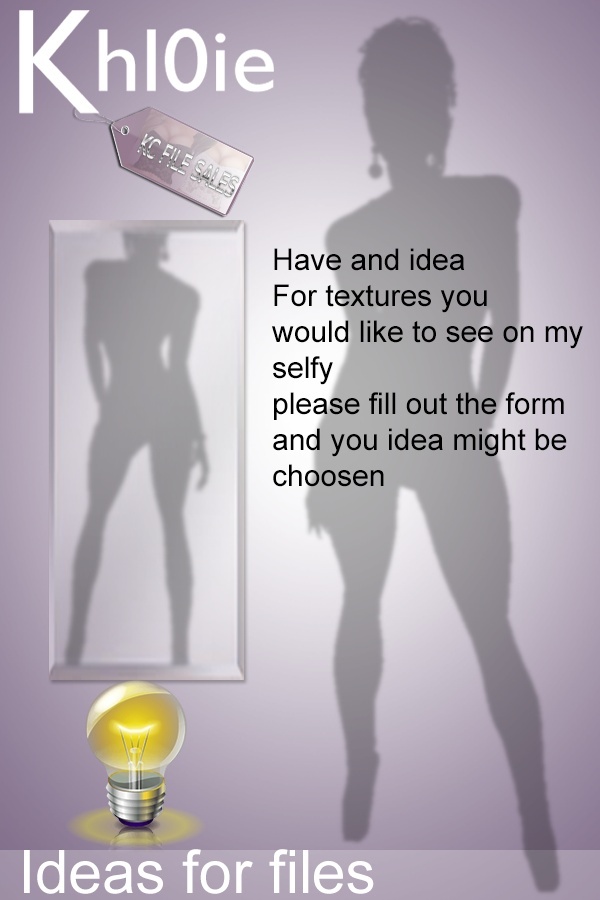 K product ideas
Have an idea for something you would like to see here to purchase?
List your idea/s in the form below and send it back to me by the below links 
What files I will not make
Copyright branded
Logos copyright
Copying other creators work
Anything against imvu's T.O.S
If you request is approved you will be contacted to discuss it further.
I will not tolerate drama or rudeness.
Thank you For your support !!    
FORM 
Name :
FILE TYPE :
G.A / A.P :
What is the item you want me to make : 
Do you have examples pics links ect… :  
Any other details about the project your after: 
Any Specific mesh ?:  
Your details :
Imvu username ( acount you will be useing for the files) :
Selfy acount name and link :
Facebook link : 
Any other questions or info : 
You can copy and paste the form and send it to my inbox on selfy, imvu or Face book
My selfy link :
https://sellfy.com/1635434803365549
My Imvu link :
http://www.imvu.com/catalog/web_mypage.php?user=29652412
My facebook link :
https://www.facebook.com/clacce.parks
Thank you        
$0.90
You'll get a 10.5KB .ZIP file.
More products from Khloie Parker