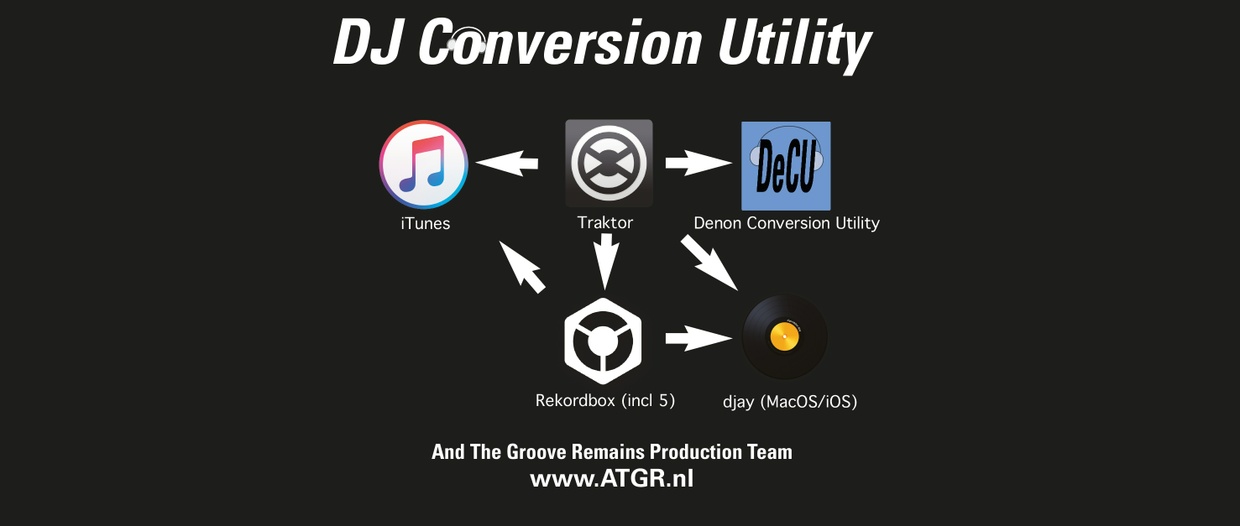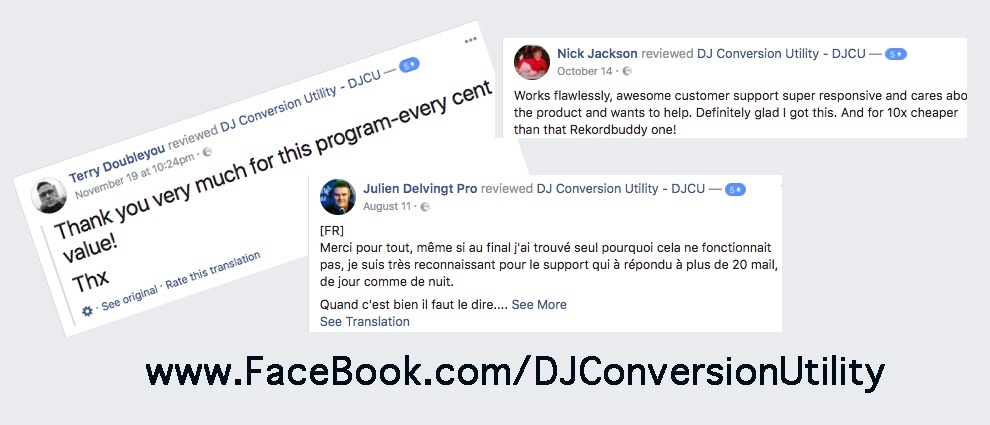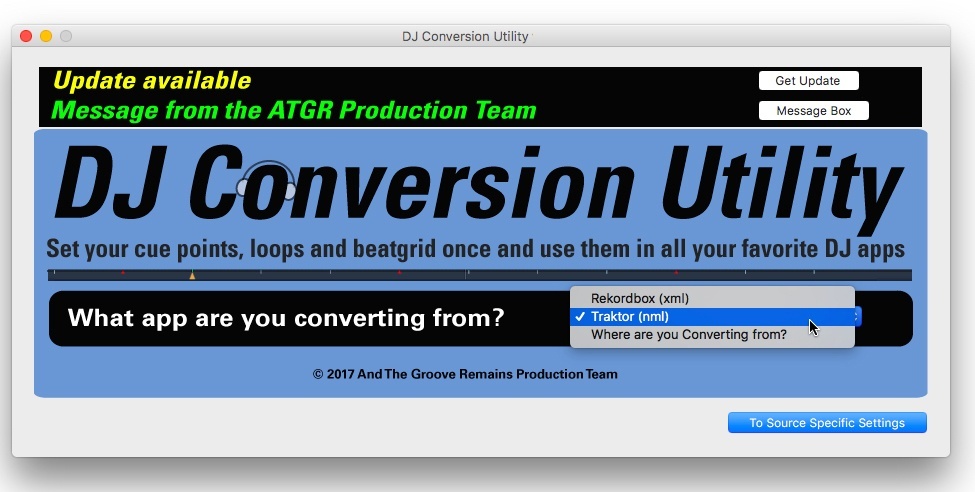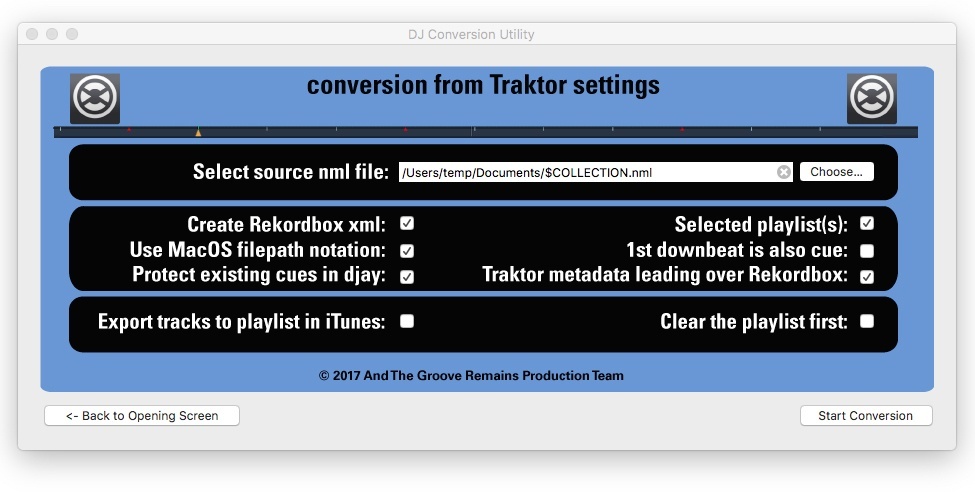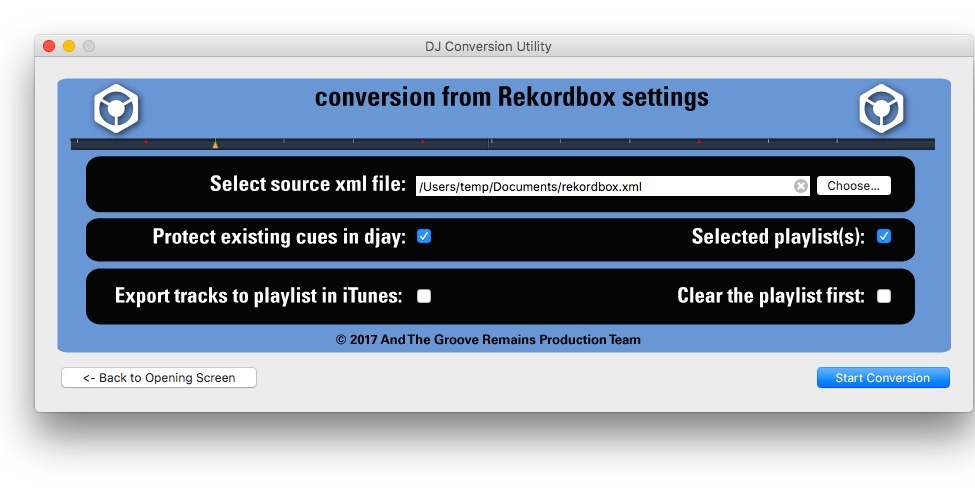 DJ Conversion Utility for MacOS
Current release v2.046 as of February 10th 2018 
If you got problems with the processing of your paypal payment then contact me!


QuickStart going from Traktor to Rekordbox
https://youtu.be/kIRNs-eRguo
Full Demonstration (needs to be updated to 2.0)
https://youtu.be/rclskM3M1HE
The manual is at
https://www.dropbox.com/s/8qamoctuo85xz57/DJCU%20manual.pdf?dl=1

from Traktor Pro to Rekordbox

Just 10 months after it's initial release DJCU has become the number 1 utility to migrate your collection from Traktor Pro to Rekordbox DJ! Over 5 thousand users can't be wrong...
The DJ Conversion Utility converts hot cues, saved loops and beat grids from Native Instruments Traktor Pro to Pioneer's Rekordbox. Cues are stored both as hotcues as well as memory cues and keep their given names. 
DJCU will generate a RekordBox.xml file to import the converted data into Rekordbox DJ. If the Tracks with converted cues are already part of your Rekordbox collection then only the cues and beatgrid are overwritten with the new data. The tracks remain part of the playlists they are already part off.
Optionally other metadata like ratings and keys can be imported from Traktor Pro as well. 
Traktor Pro users can either convert all the tracks in their entire collection who have at least 1 cue or loop set, or do this with a given playlist.
There is now an option to keep your selected playlist(s) identical in RekordboxDJ to how they are in Traktor (so with all tracks in it, not just the ones with a cues or loops) and with the nesting structure in tact. 
from Rekordbox & Traktor Pro  
to djay
The DJ Conversion Utility (DJCU) will convert cue points and the first downbeat of a beatgrid set in Pioneer's Rekordbox or Native Instrument's Traktor Pro to Algoriddim's djay. The utility will generate a file that can be used with all versions of the djay app (both pro and djay 2 but NOT djay Pro 2) on both platforms iOS and MacOS. 
DJCU scans either the entire collection or in the case of Rekordbox selected playlist(s) and converts all the cue points and the first downbeat of the tracks automatically.
If djay Pro for MacOS is installed, DJCU can install the converted file in the proper location. Or you can use the included merge utility to merge the newly created list with your existing cues.
Users can chose to create a playlist in iTunes holding all tracks that have their cue points converted. As well as keeping playlists identicall to how they appear in Traktor Pro. This option is very convenient for users of djay on an iOS device. It will take the guess work out of track synchronization.
from Serato DJ
to Traktor Pro, Rekordbox, djay

It's a bit more work and involves using the free Traktor Pro demo as an intermediate. The procedure is descirbed in a readme including the necessary download links. It only works for mp3 and wav tracks.
iTunes integration is now for both sources Traktor Pro or Rekordbox DJ
This option is extremely powerful. It gives you the possibility to recreate in iTunes the folder/playlist(s) you have in either TKP or RBDJ. This was originally developed because djay uses iTunes as it's collection manager. iTunes integration assures that the tracks in iTunes are the same tracks as in RBDJ or TKP. You can even sync your iOS devices with these playlists. 
However it's use extents far beyond that. If you want to use your RBDJ or TKP playlists in Mixed in Key or Denon's Engine or some other program then this is the way to go! Because those apps (as well as many others) can sync with iTunes. 
Because DJCU can sync your RBDJ or TKP collection with iTunes you can go full circle.
DJCU is the only app that recreates complete, nested playlists in iTunes in a safe non destructive way. The iTunes integration does not perform any metadata converison. So non standard metadata like star ratings etc are not converted. Take a look at the Traktor Tag Sync Utility if that is what you are looking for.
Denon Prime users:
There is a discount for DJCU users when buying the Denon Conversion Utility. The alert window of DJCU has the details. DeCU with it's bundled iR Collection Backup Tool and the DJCU enable an effortless integration of Traktor as your track preparation software of choice with the Denon DJ #SC5000 player without the need to use #EnginePrime at all (ok only for automatized analyzation of the tracks).
Known limitations
DJCU only works on UTF8 character sets. Extended characters sets in UTF16 are not supported.
The catalog of our DJ apps:
https://www.dropbox.com/s/0gl2jrw5cjfl5q4/Product%20flyers.pdf?dl=1
Facebook page:
https://www.facebook.com/DJConversionUtility/
IMPORTANT
:


MacOS only (no refund to Windows users who accidently buy this app!)


fully compatible with MacOS from version 10.9 upto to MacOS 10.13 (High Sierra)


fully compatible with Rekordbox 5.1.1


You'll get a 26.9MB .ZIP file.
More products from And The Groove Remains Production Team