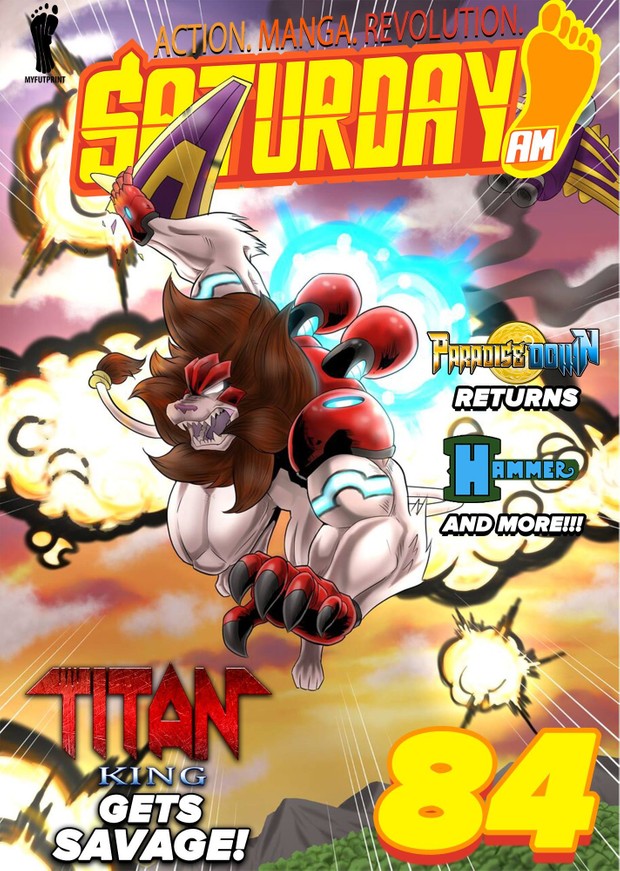 Saturday AM #84
The World's MOST DIVERSE Shonen Manga anthology is heading towards our 1st Break of 2018 and trust us, it's NEEDED!

But, we're going out WITH A BANG!

Issue 84 (85 hits next week)....includes a wonderful collection of DOPE COMICS!

TITAN KING returns with fresh, fun 1980's cartoon-like installment. Tony Dawkins is becoming quite a fan favorite with this series and he not only does our cover but also our MY FAVE feature where he discusses DRAGONBALL Z!!

PARADISE DOWN also returns from Jaime Molina and if you haven't seen his growing artistic talents - then you're really missing out. This series about a group of super-powered thieves is every bit as joy-inducing as you would imagine.

Lastly, HAMMER by JeyOdin has become a LEGIT HIT and this issue includes two other amazing, FULL COLOR chapters.

The issue also includes a detailed rundown of our FINAL FOUR artists who make up our March ART Madness. Learn more about these rising stars and go VOTE.


See you next week!!
You'll get 1 file (236.5MB)
More products from Saturday AM