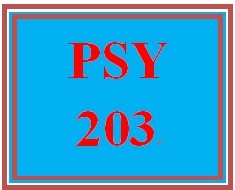 PSY 203 Week 2 Classical and Operant Conditioning Presentation
PSY 203 Entire Course Link
https://uopcourses.com/category/psy-203/
PSY 203 Week 2 Classical and Operant
Conditioning Presentation
Develop 
an 8-10 slide Microsoft Power Point
presentation, 
including preesenter's notes.


Describe the
process of learning through classical conditioning.


Create an
example of classical conditioning to produce a natural response (fear,
happiness, sadness, and so on).


Identify the
US, UR, CS, and CR.




Describe how
positive reinforcement, negative reinforcement, and punishment can
influence behavior.


Create an
example of an operant conditioning situation.


Identify
which operant conditioning method you would use to either increase or
decrease the specified behavior.


Click
 the
Assignment Files tab to submit your assignment.
You'll get 1 file (5.9MB)
More products from UopTutorials