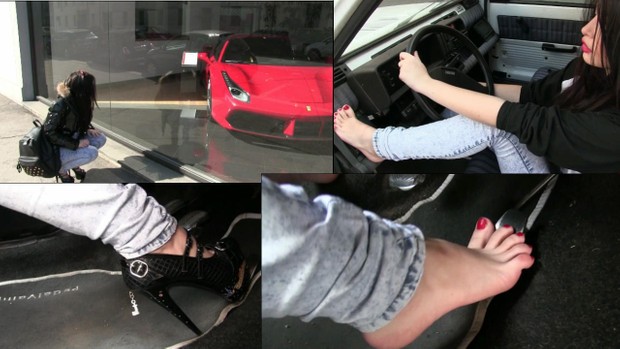 144 : Introducing Miss Josephine ... dreaming of a Ferrari and cranking the stubborn old Fiat Panda
Please everybody welcome a new Miss: Miss Josephine!
In her first video she is going to take an old classic, the Fiat Panda!

She is in Torino looking at a dealer of a famous car company, the Ferrari.

She would like to have one, and while looking at all the cars in exposition, she dreams about having one and driving in town with that powerful and exciting car.

But after a while reality strikes back: until she will be not so rich to afford a new one, she has to deal with a white Fiat Panda, that barely works and gives her a lot of problems. So she gets in her old Panda and she is ready to go home!

But... The car doesn't want to cooperate! It seems that it is angry at her for thinking about how crappy it is and it is giving her a revenge!

The poor Josephine tries in all the ways she knows to fire up the engine, pressing slow or hard with her super high heels on the pedals trying to find the right combination to start the engine!

Will she make it?
You'll get 1 file (486.8MB)