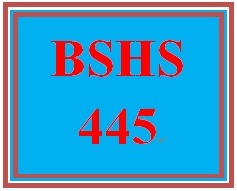 BSHS 445 Week 5 Caretaker Interview
BSHS 445 Entire Course Link 
https://uopcourses.com/category/bshs-445/
BSHS 445 Week 5 Caretaker Interview
Conduct
 an interview with someone who works in human services, answering the questions from the University of Phoenix Material: Caretaker Interview.
Obtain
 faculty approval before conducting your interview.
Write
 a 1,050- to 1,500-word paper discussing the interview. Include the following:


Provide a summary of the interview.


Explain how burnout is different from compassion fatigue.


Identify the signs that are key indicators of burnout.


Explain the levels or stages of burnout that the interviewee experienced.


Format
 your paper consistent with APA guidelines.
Click 
the Assignment Files tab to submit your assignment. 
You'll get 1 file (32.0KB)