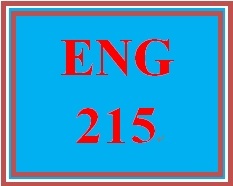 ENG 215 Week 2 Annotated Bibliography
https://plus.google.com/u/0/108200033792883877670/posts/dWT4sDYbQKM
 ENG 215 Week 2 Annotated Bibliography 
The quality of the argument you make in writing depends on the quality of the source material you choose to include in your writing. Therefore, an annotated bibliography begins the preliminary research process. The document will serve as an ongoing list of sources that will support your final paper in Week 5. Using scholarly sources will give you credible work that your instructors (or even employers) will acknowledge. The skills of paraphrasing and summarizing are foundational for any research writer. The more you strive to understand what another writer is trying to communicate, the more you will be moved to make your voice heard as a writer.
Conduct several searches using any of the databases in the University Library related to the topic about which you want to write.
Select four to seven scholarly, academic sources from the library search that support the topics and arguments you plan to present in your final paper. These items should be peer-reviewed articles.
Review the Annotated Bibliography document for format. For example, you will see that the bibliography should follow the guidelines for annotated bibliographies, contain correctly formatted APA-style entries, and includes a one-paragraph summary/analysis of the item of at least three sentences.
Prepare a four- to six-item annotated bibliography for your argumentative research paper.
Include a title page formatted according to appropriate course level APA guidelines.
Submit your annotated bibliography to the Assignment Files tab.
You'll get 1 file (28.0KB)