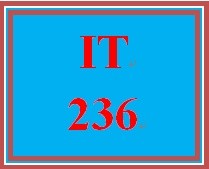 IT 236 Week 4 Toolwire ® Lab: Site Structure
**********************************************
IT 236 Entire Course Link
https://uopcourses.com/category/it-236/
**********************************************
IT 236 Week 4 Toolwire ® Lab: Site
Structure
Resources:
 Toolwire®
Use 
the Toolwire® Lab:
Create a Site with Navigation as a learning tool. Do not submit this week's
Toolwire® Lab to your instructor.
Complete 
the following:


Use Adobe® Dreamweaver® CS5
software on the Toolwire® desktop.


Create a new
site structure.


Save the
site in a folder called IT236-Name, where Name is
the first initial of your first name and your last name. Make sure your
folder name does not include spaces.


Add a folder
called "Images" to the IT236-Name folder.


Add two new
HTML pages to your IT236-Name folder.


Name the
homepage index.html.


Name the
secondary page a short meaningful name that describes the future page
content. For example, products.html; aboutUs.html;
and so forth.


Create the
navigation menu that includes navigation from each page to both pages. For
example, a menu that includes home and products will be added to both
pages.


Ensure 
thatthe folders and new pages are saved in the IT236-
Name
 folder,
and compress (zip) the folder (Maximum file size is 10 MB).
Click
 the
Assignment Files tab to submit your assignment.
You'll get 1 file (3.8KB)