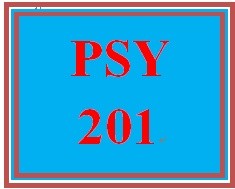 PSY 201 Week 1 Knowledge Check
PSY 201 Entire Course Link 
https://uopcourses.com/category/psy-201/
PSY 201 Week 1 Knowledge Check
Complete 
the Week 1 Knowledge Check. 
1.
Sam was comparing different sciences and noticed something unique about psychology when compared to the natural sciences. Which of the following might he have noticed?
· A.
Psychologists implement the scientific method much more frequently than most other fields.
· B.
Psychologists focus on studying human health and its preservation.
· C.
Psychologists often use the subject of investigations to perform the investigation itself.
· D.
Psychologist struggle with limitations of prediction while trying to understand behaviors.
2.
Parker is majoring in behavioral biology which examines the impact of our physiology on what we do. His friend thinks that behavioral biology is just copying psychology. Which correct statement could Parker use to answer his friend's assumption?
· A.
Psychology has roots in biology.
· B.
Only in the last few years has the field of biology started to examine behavior.
· C.
There is no link between behavior and biology.
· D.
The study of biology and psychology have never shared issues of study
3.
The study of psychology is influenced by the study of biology. For example, naturalist Charles Darwin heavily influenced which classic school of thought in psychology?
· A.
Functionalism
· B.
Structuralism
· C.
Psychoanalytic
· D.
Behavioral
4.
Theo thought that the reason that many dogs spin before they sit down is to be sure they aren't sitting on anything harmful. He suggests this increases their chance of survival. Theo's assumption forms the basis of what contemporary perspective of psychology?
· A.
Psychoanalytic
· B.
Evolutionary
· C.
Positive psychology
· D.
Humanism
5.
Brian is in a lab where he is asked to draw an apple and to say his thoughts aloud as he draws. This technique is similar to the process of ______.
· A.
neuroscience
· B.
introspection
· C.
functionalism
· D.
heritability
6.
Frank wonders why it is that humans have developed a taste for sweet things. He suspects that sweet calories are adaptive and help us to survive. Which early school of thought matches Frank's explanation?
· A.
Functionalism
· B.
Structuralism
· C.
Biological psychology
· D.
Physiology
7.
Kathryn's psychologist recently asked her to participate in an introspection activity. She gave Kathryn a mango and asked her to describe out loud everything she felt during the experience of eating it. Kathryn's psychologist subscribes to the school of _____.
· A.
functionalism
· B.
societalism
· C.
structuralism
· D.
foundationalism
8.
Blake is learning about different adaptations that have evolved over millions of years such as bipedalism. Which school of psychology would justify our early ancestors' transition from an arboreal to a terrestrial niche by stating that it increased survival and reproductive success?
· A.
Functionalism
· B.
Cognitive psychology
· C.
Humanistic psychology
· D.
Structuralism
9.
Dr. Allen is a psychologist who believes that who you are as a person has to do with the way that your environment shapes your personality. Which of the following perspectives supports his theory?
· A.
Biological
· B.
Cognitive
· C.
Behavioral
· D.
Humanistic
10.
Billy was surprised when he studied Plato that Plato also considered some of the same kinds of issues that they discussed in his psychology course. Billy's discovery highlights the ______ roots of psychology
· A.
functional
· B.
philosophical
· C.
biological
· D.
sociocultural
You'll get 1 file (46.8KB)
More products from UopTutorials