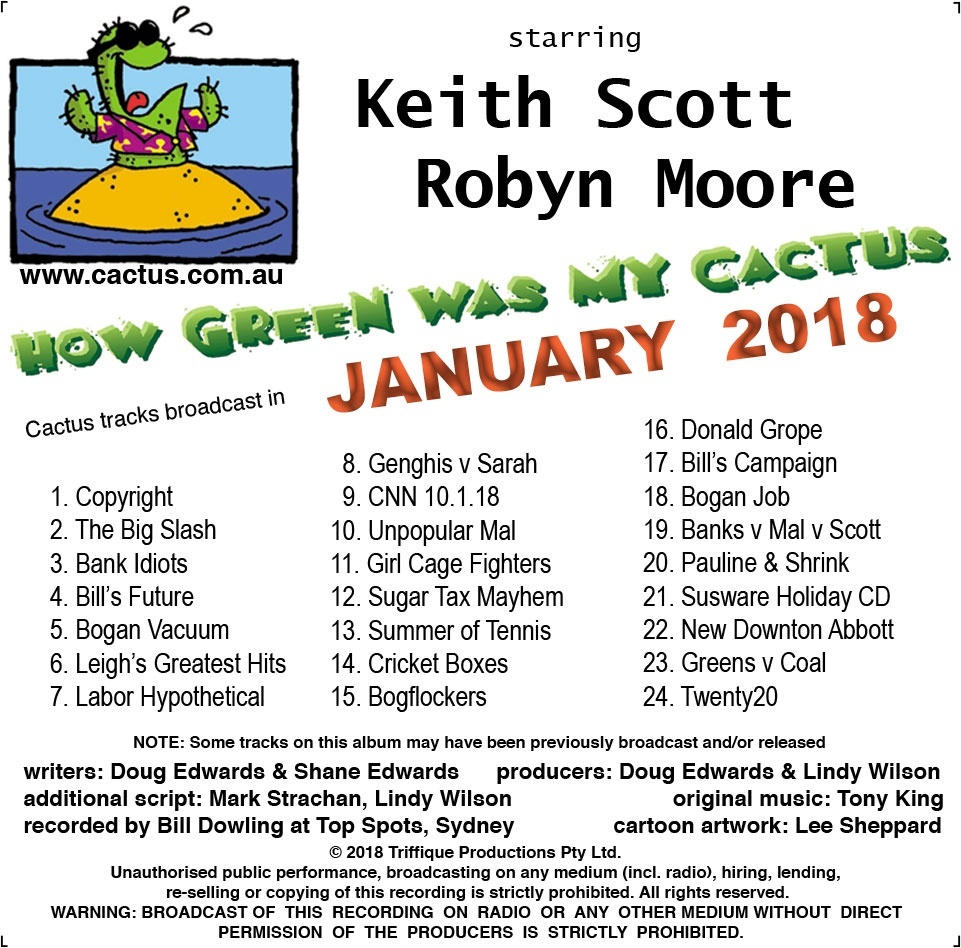 CACTUS - JANUARY 2018
CACTUS
JANUARY 2018
TRACKS
1. Copyright: All material downloaded is copyright.Unauthorised public performance,broadcasting on any medium (including. radio),hiring,lending,re-selling or copying of this recording is strictly prohibited.All rights reserved. ©2017 Triffique Productions Pty Ltd
2. 6676 THE BIG SLASH: With Mal Talkbull's popularity dangerously low, Mal chants his lament: 'Nobody loves me, everybody hates me, I think I'll go and eat truffled worms'.
3. 6677 BANK IDIOTS: Justin and Stella Idiot question their bank over mortgage interest rate rises. The manager explains that the bank is going broke because of all the executive bonuses it pays.
4. 6678 BILL'S FUTURE: What does life after politics hold for Bill Curly? Apart from his plan to make his wife Chloe a pillow from all the lint he's collected from his belly button.
5. 6679 BOGAN VACUUM: Davo and Shazza Bogan get a free home demonstration of a vacuum cleaner. Davo buggered their old cleaner while changing the oil in the car.
6. 6680 LEIGH'S GREATEST HITS: New on DVD from the ABC Shop, Leigh Sales' Greatest Hits! Interviews with the likes of President Barack O'Bummer, Julia Buzzard and One Nation leader Pauline Hatful.
7. 6681 LABOR HYPOTHETICAL: Hypotheticals host Geoffrey Robertson suggests that Labor leader Bill Curly has become the Prime Minister. It's only hypothetical but Bill still falls off his chair.
8. 6682 GENGHIS v SARAH: Talkback genius Genghis Porkbun explains to Greens spokespixie Sarah Handsome-Rack that renewable energy is just a passing fad, like the hoola-hoop, Medicare and women in politics.
9. 6683 CNN 10.1.18: Sandra Silly with news, Richard Richard with showbiz and Big Gazza Roidman with sport. Top story: Bill Curly tries to improve his popularity with a Donald Trump hairpiece.
10. 6684 UNPOPULAR MAL: Opinion polls show that Mal Talkbull is now less popular than Tony Abs was as PM. Mal's solution is to do everything that Tony did, including wearing budgie smugglers.
11. 6685 GIRL CAGE FIGHTERS: Big Gazza Roidman is mystified by female cage fighting. If women want black eyes they should stick to mascara. 
12. 6686 SUGAR TAX MAYHEM: Cactus News super gob Mark Mayhem finds that even the Pope opposes a sugar tax - priests are not well paid and can't afford an increase in the price of lollies.
13. 6687 SUMMER OF TENNIS: Tennis on 7! You will believe a ball can fly. You will believe that sweat can drip. You will believe a shoe can squeak. Tennis on 7! It's our racquet. Do you have the balls?
14. 6688 CRICKET BOXES: Mal Talkbull is in mining magnate Cruella De Creosote's private box at the cricket, while Bill Curly is in the private box of Labor's biggest donor, Mr Hung Long, CEO of Mystery Industries.
15. 6689 BOGFLOCKERS: Naturlist David Kittenburger examines the strange ritual of bogflocking. A group of female politicians flock to a row of porcelain nests to talk about other females.
16. 6690 DONALD GROPE: US president-elect Donald Dump gropes famous women of the world, such as Queen Bessie of Buckingham Palace, Angela Merkel and Kim Kardashian.
17. 6691 BILL'S CAMPAIGN: Bill Curly has achieved his greatest ambition since becoming Labor leader. Yes, he's got Michael Bublé's autograph. And people still say he's boring.
18. 6692 BOGAN JOB: Davo Bogan's CentreLink case worker finds him another job, despite his performance in his last job when he mixed up the brake and accelerator on a school bus.
19. 6693 BANKS v MAL v SCOTT: Mal Talkbull sends Treasurer Scott No-Idea to confront the greedy banks. Scott prefers to let Defence Minister Marise Payne do it – she's the one with an army.
20. 6694 PAULINE & SHRINK: Eminent psychiatrist Dr Sigmund Sheiserhousen sees a new patient, Senator Pauline Hatful, who won't lie on the couch until the doctor checks underneath for Muslims.
21. 6695 SUSWARE HOLIDAY CD: Hey Mum. Hey Dad. Kids flown the nest. Are you missing those fun family holidays. You need the Susware Happy Holiday CD. 100 great tracks, 100 great holiday memories.
22. 6696 NEW DOWNTON ABBOTT: Mr and Mrs Tony Abbott receive an unwelcome visit from PM Mal Talkbull, a man who Mrs Abbott thinks is of quimly character.
23. 6697 GREENS v COAL: Green Party Godfather Richard Corleone confronts coal miners Clive Parmesan and Cruella de Creosote, just as Cruella is planning to mine poor people for their organs.
24. 6698 TWENTY20: From the extraordinary mind of sports guru Big Gazza Roidman comes his appraisal of international Twenty20 cricket and why it will bring about world peace.
You'll get a 47.0MB .ZIP file.
More products from doug_e