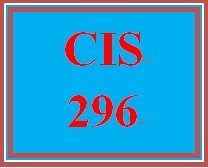 CIS 296 Week 5 Team Troubleshooting Flowchart Final Project
CIS 296 Entire Course Link
https://uopcourses.com/category/cis-296/
CIS 296 Week 5 Team: Troubleshooting Flowchart Final Project
Finalize the final draft of the Troubleshooting Flowchart Final Project (Appendix A).
Submit your assignment using the Assignment Files tab.
Appendix A 
Troubleshooting Flowchart Final Project 
Your team is in charge of computer maintenance and troubleshooting at a major U.S. retailer. Business has been growing fast, and your company is about to open several new facilities across the country. Management has asked your team to develop a short troubleshooting diagnostic tool for the most common problems faced by new IT employees at these facilities. 
After some consideration, your team decides to create a handbook containing troubleshooting flowcharts that address the most common computer issues. 
For your final Project, you will create the handbook described, which includes a Master Flowchart (see the PDF provided in Week One) and 15 corresponding troubleshooting flowcharts. You may use a Microsoft® Word document, a Microsoft® PowerPoint® presentation, or a Microsoft® Visio® diagram to build your Troubleshooting Flowcharts. Multiple flowchart examples are provided in both Microsoft® Word and Microsoft® PowerPoint® formats (as PDF files). In collaboration with your Learning Team, you are responsible for creating the following 10 flowcharts:  
Flowchart #1 – Notebooks 
Flowchart #2 – Electrical  
Flowchart #3 – I/O Devices 
Flowchart #4 – Power Supply 
Flowchart #5 – Motherboard 
Flowchart #6 – Memory 
Flowchart #7 – Multimedia Device 
Flowchart #11 – OS/Application Installation 
Flowchart #14 – Security and Malicious Software 
Flowchart #15 – Social Engineering 
The following five flowcharts are provided. These flowcharts are examples of what you should create with your team. Include them with your final project: 
Flowchart #8 – Hard Drive (Appendix C)  
Flowchart #9 – Loading Windows Vista® or Windows® 7 (Appendix D)  
Flowchart #10 – Loading Windows® 2000 or Windows® XP (Appendix E) 
Flowchart #12 – Networks (Appendix F) 
Flowchart #13 – Printers (Appendix G) 
Note: Your handbook does not need to be formatted according to APA guidelines. You may create your flowcharts in a Microsoft® Word document, a Microsoft® PowerPoint® presentation, or a Microsoft® Visio® diagram. Graphics, photos, tables, charts, and hypertext links to known documented solutions may be included when necessary.
You'll get 1 file (1.1MB)