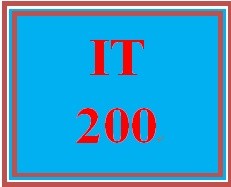 IT 200 Week 1 participation Lynda.com® Google Cloud Platform (Advanced)
IT 200 All Participations Link
https://uopcourses.com/category/it-200-participations/
IT 200 Week 1 participation
Lynda.com
®: Google Cloud Platform (Advanced)
Google's Cloud based Apps 
Class: 
Part of the learning process is the frustrating stage of trying to grasp some abstract concepts, but we need not to give up or become frustrated.., it takes time for our brains to process concepts, and all we have to do is be patient and persevering in our learning efforts, and with time these concepts will become more clear and logical. 
For example here in this video we discuss "Apps"; Apps are simply "easy buttons" that connect a mobile device to a web site by one click, and the methods and programs to create them and use them are becoming more and simpler every day. 
Could you come up with a list of your favorite Google Apps you use and how they are helpful and beneficial to you please?  
You'll get 1 file (34.5KB)