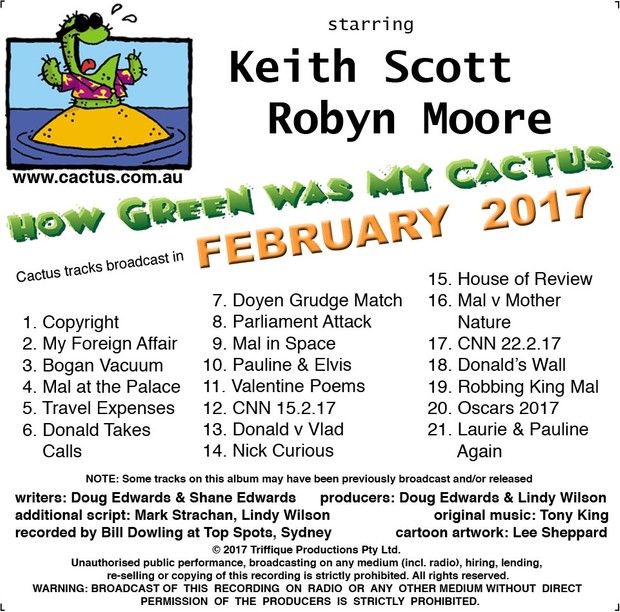 CACTUS - FEBRUARY 2017 (all tracks)
DESCRIPTION
CACTUS - FEBRUARY 2017
TRACKS
1. Copyright: All material downloaded is copyright.Unauthorised public performance,broadcasting on any medium (including. radio),hiring,lending,re-selling or copying of this recording is strictly prohibited.All rights reserved. ©2017 Triffique Productions Pty Ltd
2. MY FOREIGN AFFAIR: From the Cactus Library of True Romance, the bodice-ripping story of the political love-in between Pauline Hatful and Donald Dump.
3. BOGAN VACUUM: Davo and Shazza Bogan get a free home demonstration of a vacuum cleaner. Davo buggered their old cleaner while changing the oil in the car.
4. MAL AT THE PALACE: Queen Bessie of Buckinghuge Palace and Prince Philipoussis are surprised by a visit from Cactus Island's CEO Malcolm Talkbull, a born again monarchist.
5. TRAVEL EXPENSES: Senator Derryn Livershot suggests that travel expense rorts by parliamentarians are the greatest rip-off since Nazi art theft and ink cartridge pricing.
6. DONALD TAKES CALLS: Mexican Pres. Enrique Pina Colada tells Donald Dump that Mexico now wants to pay for the border wall because too many Americans are escaping.
7. DOYEN GRUDGE MATCH: Big Gazza Roidman is at the Parliament Stadium for the year's first doyen grudge match. Front row forward Sussan Ley has been suspended for breaching the salary cap.
8. PARLIAMENT ATTACK: Cactus Island's home-grown terrorist Osama bin Wheelie attacks Parliament House, using specially trained wombats to dig through the grassy roof.
9. MAL IN SPACE: At his country property The Plunderosa, Malcolm Talkbull tells his colleagues about his Christmas holiday, a trip to a Russian space station as a tourist.
10. PAULINE & ELVIS: Pauline Hatful gets a visit from Elvis Presley, a.k.a. Labor Senator Scam Dastyari who dresses as Elvis for publicity. Pauline thinks he's a desperate knob.
11. VALENTINE POEMS: Hartley Moistgusset presents beautiful Valentine's Day card poems, even one by young William Shakespeare during his career with Hallmark Greeting Cards.
12. CNN 15.2.17: Rolf Harris faces further charges after bush kangaroo Skippy comes forward with claims that Harris tied her down.
13. DONALD & VLAD: US President Donald Dump vows to replace ObamaCare with something more affordable, nothing. He then talks to Russian president Vladimir Poothing.
14. NICK CURIOUS: Sports guru Big Gazza Roidman warns tennis child prodigy genius Nick Curious that he's in danger of joining the other also-rans on I'm A Has-Been Get Me Out Of Here.
15. HOUSE OF REVIEW: Is Nick Sennapod the only Senator to ask sensible questions? Questions like, what the hell am I doing here?
16. MAL v MOTHER NATURE: Mother nature berates Malcolm Talkbull over his love of coal. Mal assured her that when new 'clean' coal is fired it smells like freshly baked scones.
17. CNN 22.2.17: Flopposition leader Bill Curly concedes that he is hurt by Malcolm Talkbull's nasty verbal attacks in Parliament. Mainly because Mal also pelts Bill with his loose change.
18. DONALD'S WALL: Donald Dump tries to buy a cheap, second-hand border wall so the Mexicans can afford to pay for it.
19. ROBBING KING MAL: In Sherwoodchip Forest, Bill of Labor, alias Robin Who, darns a hole in his tights. Moths are the only thing he attracts these days.
20. OSCARS 2017: Malcolm Talkbull wins the Oscar for Best Actor for pretending to be involved in government decision making.
21. LAURIE & PAULINE AGAIN: One Notion Party Grand Wizard Pauline Hatful wants to make our country great again by draining the swamp between us and Indonesia so we can build a wall.
NOTE: TRACKS ON THIS ALBUM MAY HAVE BEEN PREVIOUSLY BROADCAST AND/OR RELEASED.
COPYRIGHT: All tracks and material ©2017 Triffique Productions Pty Ltd. All rights reserved. All material downloaded is copyright. Unauthorised public performance, broadcasting on any medium (including. radio), hiring, lending, re-selling or copying of this recording is strictly prohibited. All rights reserved.
You'll get 1 file (41.4MB)
More products from doug_e