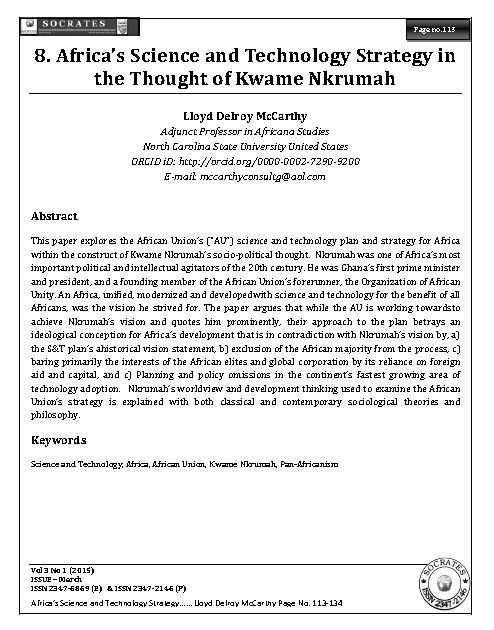 Africa's Science and Technology Strategy in the Thought of Kwame Nkrumah
This paper explores the African Union's ("AU") science and technology plan and strategy for Africa within the construct of Kwame Nkrumah's socio-political thought. Nkrumah was one of Africa's most important political and intellectual agitators of the 20th century. He was Ghana's first prime minister and president, and a founding member of the African Union's forerunner, the Organization of African Unity. An Africa, unified, modernized and developed with science and technology for the benefit of all Africans, was the vision he strived for. The paper argues that while the AU is working towards to achieve Nkrumah's vision and quotes him prominently, their approach to the plan betrays an ideological conception for Africa's development that is in contradiction with Nkrumah's vision by, a) the S&T plan's ahistorical vision statement, b) exclusion of the African majority from the process, c) baring primarily the interests of the African elites and global corporation by its reliance on foreign aid and capital, and c) Planning and policy omissions in the continent's fastest growing area of technology adoption. Nkrumah's worldview and development thinking used to examine the African Union's strategy is explained with both classical and contemporary sociological theories and philosophy.
You'll get a 1.3MB .PDF file.