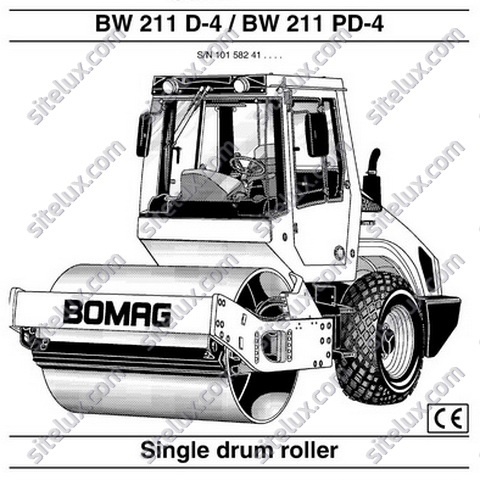 Bomag BW 211 D-4, BW 211 PD-4 Single Drum Roller Operation & Maintenance Manual
This original manual PDF download describes procedures for operation, handling, lubrication, maintenance, checking, and adjustment for the Bomag BW 211 D-4, BW 211 PD-4 Single Drum Roller. It will help the operator or anyone realize peak performance through effective, economical and safe machine operation and maintenance.


---

APPLICABLE MODELS :

Bomag BW 211 D-4
Bomag BW 211 PD-4


---

TABLE OF CONTENTS :

- Technical Data
- Safety regulations
- Indicators and Controls
- Operation
- Maintenance
- Trouble shooting


---

MANUAL SPECIFICATION :

File Format : PDF
Language : English
Printable : Yes
Searchable : Yes
Total Pages : 102


Using these instructions will help you to become familiar with the machine.avoid malfunctions caused by unprofessional operation.

Compliance with the maintenance instructions will enhance the reliability of the machine on construction sites, prolong the lifetime of the machine, reduce repair costs and downtimes.
You'll get a 1.9MB .PDF file.