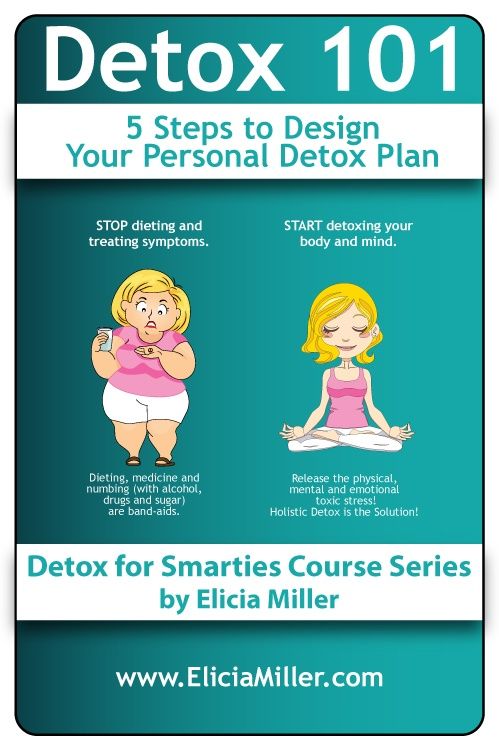 Detox 101: 5 Steps to Design Your Personal Detox Plan
Are you ready to begin releasing the toxic stress in your body and mind on a daily basis with clear, easy steps? Then this book is for you.

Use this book as a starting place for what you want to change - whether it's a health condition, emotional state, or a desire to detox and renew your entire life.

Detox 101 is the first book in the Detox for Smarties Course Series. This is a beginners guidebook to a physical detox, the next book in the series will dive into the mental, emotional and spiritual concepts of detox.

Starting July 2013 Elicia will be uploading free training videos to her DetoxWorldTour YouTube Channel to walk you through the 5 steps outlined in Detox 101. Subscribe to the YouTube channel to automatically receive new videos when they are uploaded.

This book is designed for you to create your personal detox plan, based on what you personally are ready to release that is causing you stress in your body, mind and life.

By following the detox diet in the book you will properly prepare your body for deeper cleanses, such as, the liver flush, juice and/or water fasting. When you eliminate alcohol, stimulants, sugar and processed foods (that you may have been using to numb emotions) you then start to feel your guidance system/intuition to make choices that are aligned with your soul.

This is a guidebook to detoxing with awareness. You'll get revealing exercises and essential resources for holistic detoxification and self-discovery. Enjoy the journey! There is no destination, and boundless gifts await you along the way.

Detox For Smarties is a cleansing course series based on Elicia Miller's own 20-year detox, healing and awakening journey. Each book is part of her commitment to sharing what she has seen work for herself and hundreds of her clients in various stages of healing.
You'll get a 53.2MB .PDF file.