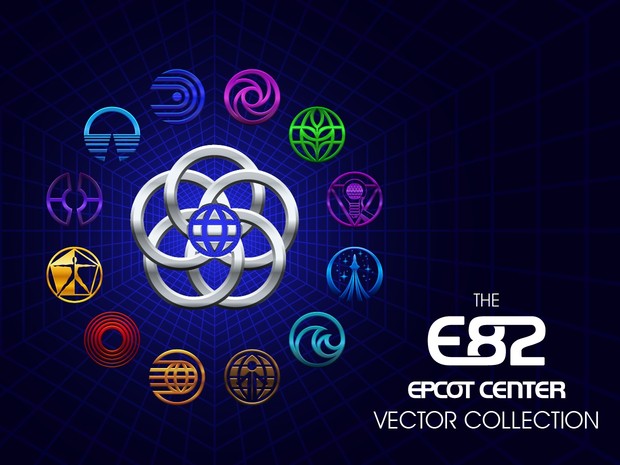 EPCOT Center Logos
One of the most highly coveted assets of The E82 Project is now available to YOU. The EPCOT Center Logo Collection is the culmination of over two years of painstaking work to create the most mathematically perfect vectorizations of the park's original pavilion iconography.
While there are similar assets available, this set of precisely calibrated icons is far superior to any other in existence.
Much has already been written about the creation of this set in the Case Study Building Better Logos. And since that time requests for this set have only increased.
Since that time, the set has expanded to include the extraordinarily rare Innoventions Logo, and has been enhanced to include custom created bevels, a four separate versions of the main EPCOT Center Logo.
Your download will include two separate file sets:
For the Novice, 69 resolution independent EPS files of each logo have been created for use in nearly every program — from Powerpoint to Photoshop.
For the Advanced User, 2 highly-organized, user-friendly, completely editable AI file suitable for every conceivable application from Indesign to After Effects-style Animation. Finally, this file also contains a bonus handcrafted "EPCOT Center" Text logo.
For Detailed Info and Previews:
www.epcotlegacy.com/centorium
You'll get 1 file (25.5MB)