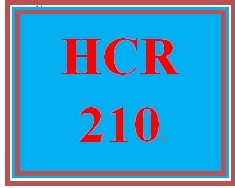 HCR 210 Week 4 Patient Reports
HCR 210 Entire Course Link 
https://uopcourses.com/category/hcr-210/
HCR 210 Week 4 Patient Reports
Resources: 
Appendix C & Ch. 6 of 
Essentials of Health Information Management
Complete 
Appendix C.
Submit 
your completed Appendix C.
Appendix CAcute Care Patient Reports
Fill in the following table with a general description of each type of patient report, who may have to sign or authenticate it, and the standard time frame that JCAHO or AOA requires for it to be completed or placed in the patient's record. Four of the reports have been done for you.  
Name of ReportBrief Description of ContentsWho Signs the ReportFiling Standard
Face Sheet 
Patient identification, financial data, clinical information (admitting and final diagnoses) 
Attending physician
30 days following patient discharge
Advanced Directives    
Informed Consent    
Patient Property Form   
(Not stated in the text, but probably at the time property is taken from the patient) 
Discharge Summary    
History and Physical Examination
The patient's chief complaint, present illness history, past history, family history, social history, current medications, and review of systems
Staff member who directly obtained this information from the patient
Variable between JCAHO and AOA, but usually not more than 7 days before or 48 hours after admission  
Consultation Reports    
Physician Orders    
Progress Notes
Notes about ongoing care: changes in the patient, complications, consultations, and treatment
Staff who see the patient sign and attending physician countersigns 
At the time they occur
Anesthesia Record    
Operative Report 
A. History, physical exam, lab and X-ray exams, and preoperative diagnosis
B.  Therapeutic procedures
C.Postoperative  evaluation
Surgeon or attending physician
A.   Prior to surgery
B.    Immediately after surgery
C.    24 hours after surgery 
Pathology Report    
Recovery Room Record    
Ancillary Testing Reports      
You'll get 1 file (53.0KB)