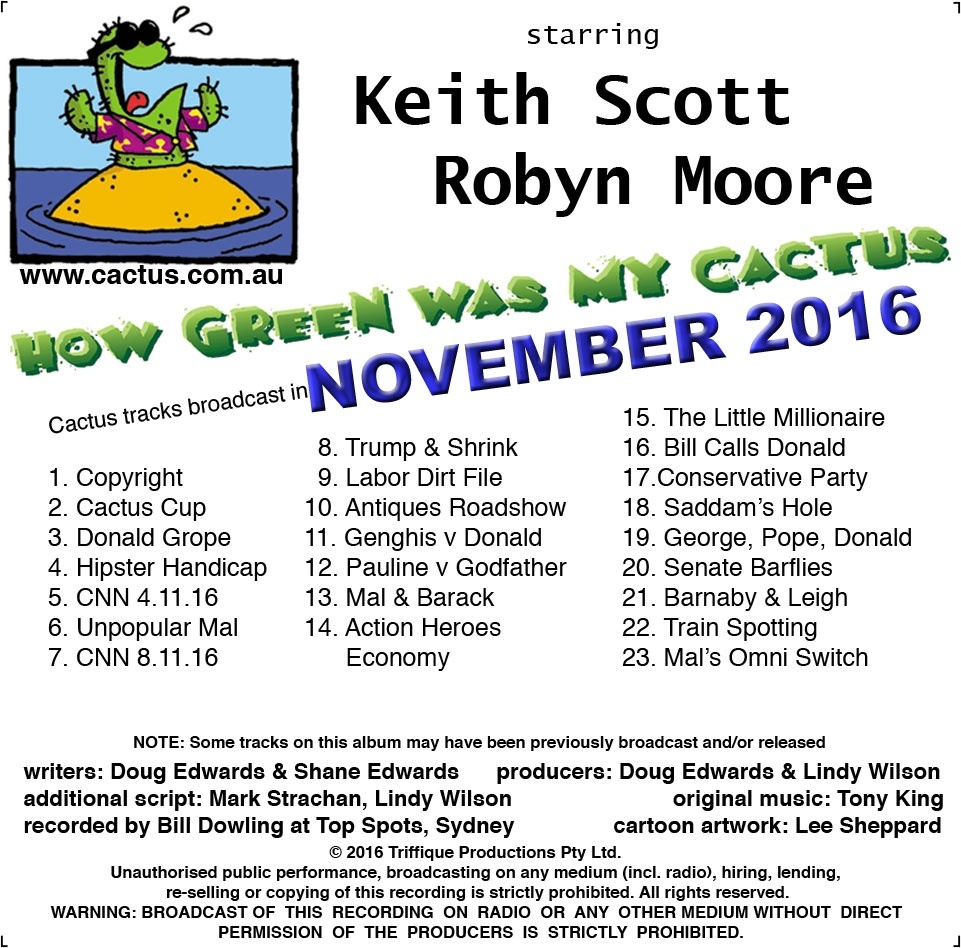 CACTUS - NOVEMBER 2016
DESCRIPTION
CACTUS - NOVEMBER 2016
TRACKS
1. Copyright: All material downloaded is copyright.Unauthorised public performance,broadcasting on any medium (including. radio),hiring,lending,re-selling or copying of this recording is strictly prohibited.All rights reserved. ©2016 Triffique Productions Pty Ltd
2. CACTUS CUP 2016: Runners lining up for the Cactus Cup, including Waffling Mal, the pin-striped show pony by Cayman Treasure out of I've Got Piles.  
3. DONALD GROPE: US presidential candidate Donald Dump gropes famous women of the world, Queen Bessie of Buckingham Palace, Angela Merkel, Kim Kardashian, but not Jacqui Tacky.
4. HIPSTER HANDICAP: The next event on the card, ladies and gentlemen, is the Hipster Handicap, featuring champions like Big Bushy Beard, Buddy Holly Glasses and Decaff Skinny Quinoa Latte.
5. CNN 4.11.16: Sandra Silly reveals that Samsung has found the problem with their Galaxy Note 7 exploding phone. It was their new employee Kevin Rudd using tiny little pink batts as insulation.
6. UNPOPULAR MAL: Opinion polls show that Mal Talkbull is now less popular than Tony Abs was as PM. Mal's solution is to do everything that Tony did, including wear budgie smugglers.
7. CNN 8.11.16: Sandra Silly with news, Richard Richard with showbiz and Big Gazza Roidman with sport. Richard has the latest on the split between James Packets and Mariah Corkers.
8. TRUMP & SHRINK: After examining Donald Dump, psychiatrist Sigmund Sheiserhousen concludes that he suffers from scrotum syndrome – he's a total nutcase.
9. LABOR DIRT FILE: Bill Curly and his Labor colleagues rat the garbage bins at the Lodge to gather material for Mal Talkbull's dirt file. Well, throwing mud is easier than thinking up policies.
10. ANTIQUES ROADSHOW: Queen Bessie of Buckinghuge Palace shows us a mystery antique from the colonies, a strange object with big ears and wearing Speedos.
11. GENGHIS v DONALD: Talkback genius Genghis Porkbun tells us what to think about presidential hopeful Donald Dump's plan to deport all Muslims and use their minarets as Dump Towers.
12. PAULINE v GODFATHER: Pauline Hatful is challenged over her racist views by the Green Party's godfather Richard Corleone. Pauline thinks Corleone must be a Muslim name.
13. MAL & BARACK: Talks between Malcolm Talkbull and Barack O'Bummer are interrupted by Donald Dump who wants to demolish the White House to build another Dump Tower.
14. ACTION HEROES ECONOMY: Radio advice agony uncles Arnold and Sylvester advise a worried caller on economic survival during a slow period in her profession, ankle modelling.
15. THE LITTLE MILLIONAIRE: Mal Talkbull sells his sould to a man with horns in return for power. Mal thinks it's every person's dream come true – he's bought cheap power.
16. BILL CALLS DONALD: Labor leader Bill Curly calls US President-elect Donald Dump to apologise for calling him 'barking mad'. Bill explains his words as 'locker room banter'.
17. CONSERVATIVE PARTY: Cactus Island's conservatives host a victory party for Donald Dump. Pauline Hatful celebrates with a new hair colour, Clairol Donald Face Orange.
18. SADDAM'S HOLE: On this day 10 years ago in western Iraq a unique auction sale took place, the sale of Saddam Whosucks' last residence, a five foot deep hole in the ground. Who bought it?
19. POPE, GEORGE, DONALD: Francis the Talking Pope is told by US President-elect Donald Dump that building a wall to keep out Mexicans will be easy – he'll get it from Walmart.
20. SENATE BARFLIES: Senator Derryn Livershot dismisses ex-PM Bob Hawke's world beer drinking record of two and a half pints in 11 seconds. Derryn used to do that with chardonnay, then eat the yardglass.
21. BARNABY & LEIGH: Leigh Nails interviews Barnaby Joh, leader of the Nationals, Deputy PM, Minister for Agriculture and Member for Akubra, but better known as Mr Tomato Head.
22. TRAIN SPOTTING: Bill Curly takes his Shadow Cabinet to Cantberra railway station to witness the thrill of train spotting. He thinks Anthony Albo would make a great platform announcer.
23. MAL'S OMNI SWITCH: Mal Talkbull has a plan to improve the government's standing in the opinion polls. Perhaps he can turn some water into wine too.
NOTE: TRACKS ON THIS ALBUM MAY HAVE BEEN PREVIOUSLY BROADCAST AND/OR RELEASED.
COPYRIGHT: All tracks and material ©2015 Triffique Productions Pty Ltd. All rights reserved. All material downloaded is copyright. Unauthorised public performance, broadcasting on any medium (including. radio), hiring, lending, re-selling or copying of this recording is strictly prohibited. All rights reserved.
You'll get a 44.8MB .ZIP file.
More products from doug_e