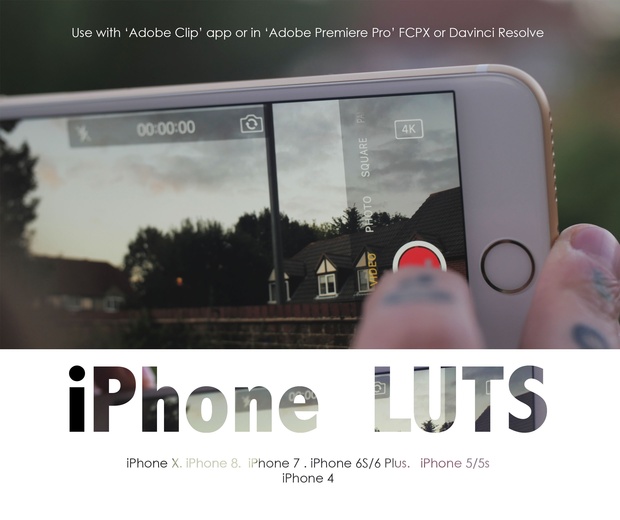 iPhone LUTS
Many of us have been shooting video with our iPhones to capture, friends, families & vacation trips.
NOW having the
iPhone 8
&
10
shooting 4k 60p, we always want to capture something cool
https://danieljohnpeters.com/iphone-luts/
LUTS work in:Adobe Premiere Pro CCDavinci ResolveFCPX
(you will need a LUT Loader)
---
How to install on your iPhone with the Adobe Clip APP after you've purchased the LUTS
https://vimeo.com/139070514
---
Hopefully these LUTS will make you more excited about filming on your iPhone and even more excited for the iPhone 8 & 10 to land in your hands.
Note: Adobe Clip App is needed with an Adobe account for the LUTS to work on your iPhone (both free) How to install is in my video and pdf file
(all LUTS are not available but a good majority are)
Otherwise, use the LUTS as normal within your editing program,
Adobe Premiere CC, FCPX or Davinci Resolve LUTS
FCPX Seems to work best using the 'Pixel Films LUT Loader:
http://store.pixelfilmstudios.com/plugin/fcpx-lut-loader
P.S I should be releasing a app Im creating which will make these LUTS easier to use, but for now enjoy using my luts this way....
UPDATE:
To flick through the 'LUTS' in the Creative Control Panel in Adobe Premiere Pro - Go To 'Applications', 'Adobe Premiere Pro CC', Right click 'Show Package Contents', 'Contents', 'Lumetri', 'LUTs', 'Creative' and then drag in the whole 'DaVinci Resolve' folder containing the LUTS
You'll get 1 file (51.6MB)
More products from Daniel John Peters