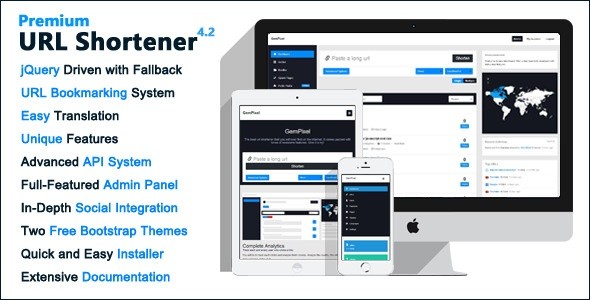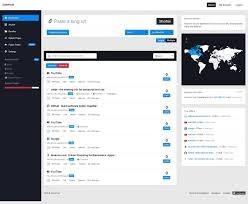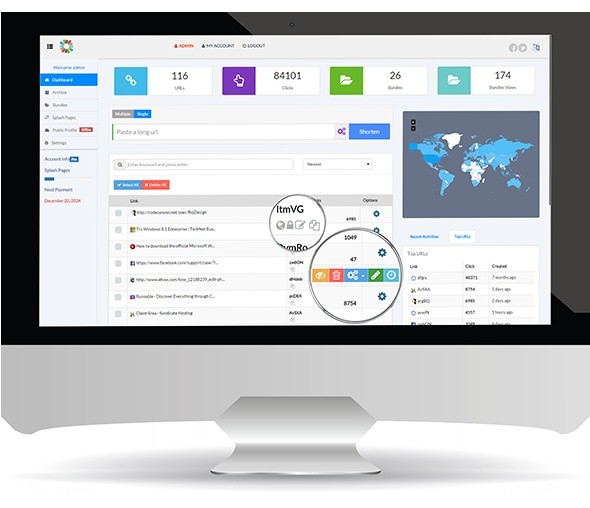 Premium URL Shortener
Premium URL Shortener is a PHP URL shortener script packed with many unique features. It has been built from scratch with performance in mind. Some of the features include geotargeting, premium membership, powerful dashboard and admin panel and a series of CMS tools to help you build your dream. Furthermore, it will keep getting better with each update!
Some Awesome Features
Social-Friendly
This script is now much more social-friendly. All pages have their own thumbnail, unique title, description and video embed code (Youtube only). Want to give it a try? Share this URL on Facebook and notice the thumbnail, title, description, video and the URL: 
http://gempixel.com/short/ZQksu
jQuery Driven With Fallback
The URL shortener script is built using the powerful javascript library jQuery. Awesome effects have been added to provide an amazing user-experience while some advanced techniques have been used to make your website spam-free. Script automatically uses fallback when javascript is disabled.
New Splash Pages
Private Service
Are you looking to use this script for your own purpose? No problem. Just enable the private option in the admin panel and only you and all the accounts you only will create will be able to access the site and use the features.
URL Bookmarking System with Bookmarklet
URLs are automatically associated to registered users and are saved on their account for future access. Users can now drag a bookmarklet tool to their bookmarks bar and instantaneously shorten the URL of the site they are viewing.
Anonymous User History (new)
Anonymous users can now keep track of their last 10 URLs without being registered. This option can easily be enabled or disabled from the admin panel.
Facebook Connect and Twitter Login
User can now instantaneously login using their Facebook or Twitter account.
Easy Translation
You can easily translate this script to any language you want by using the built-in language manager. Create a new translation, edit old ones or even deleted them with a click of a button. Everything is now automated meaning that languages will be added to the menu right away.
Geotargeting System
Users can choose to redirect visitors to a different page using their location. This option can be disabled from the admin panel.
Advanced API System
Powerful API system requires users to authenticate using a unique API key associated to them upon registration. All URLs generated by a registered user get automatically saved on their account. The API system can output in JSON, JSONP (useful when requesting using javascript) or text format.
URL Validation & reCaptcha Plugin
Extensive validation and URL filtering-system gives you the peace of mind. Several options are built-in to automatically disable "inappropriate" URLs or domain names (including tlds) from being processed by the system. The script also comes reCaptcha and SolveMedia Captcha. If enabled, the Captcha system will only be shown to anonymous users (users not registered).
Requirements
Mod Rewrite Enabled
Mod Security <script Filter Disabled
Magic_Quotes OFF (Recommended)
PHP 5.3.6 or higher and PDO Module
Looking for a Premium Theme?
You'll get 1 file (2.2MB)
More products from ScriptZone