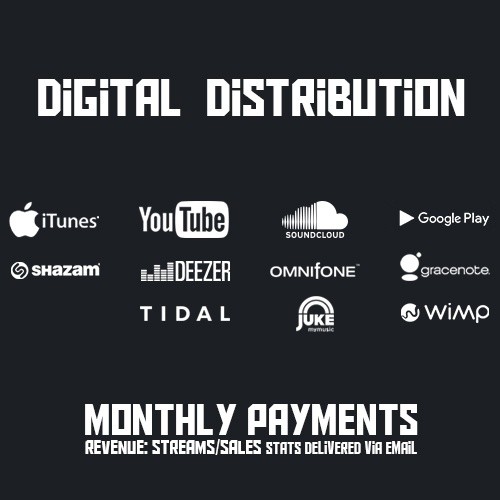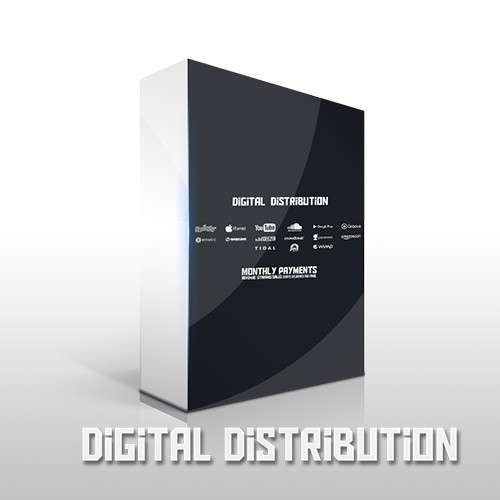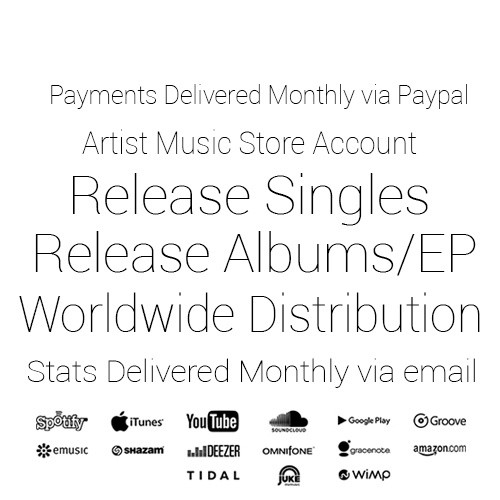 MUSIC MANAGEMENT
Contains:
Includes:


Instrumental Single/Album UPLOAD


---
Upload The Following:


Release Date [4 Weeks before release date]




Record Label/Independet [Y/N]




Excplicit/Clean Content [Y/N]


Here: https://app.box.com/signup/collablink/d_9332775261/703821d731fc5
Cover Art Requirements:
1425 x 1425 pixels
You may NOT upload artwork that displays the following:
- Website URL
- Contact information (i.e., email address, phone number)
- Pornographic images
- Pricing information
- Copyrighted images
- Scan of a CD (must be retail-ready artwork)
- Blurry or pixelated images
We will contact shortly so you can be up to date on the process of your music release.
In order to receive revenue you must meet our $50 threshold requirement. Payments will be delayed until threshold is met.



---
Frequently Asked Questions
When do I receive payment?
Once the balance on your earnings has reached the minimum threshold amount (USD$50), then you will receive the amount owed 45 days after the end of the month that the amount was earned in. For Example if you are owed $100 earned from November then the amount will be received by you before the 15th of January.          
Is there a minimum payout amount?
Yes. Currently there is a minimum payout amount for artists of $50 US Dollars. Once this threshold is met then you are eligable for payment.          
How can I receive payment?
Currently we only have one option for artists to accept payments, Paypal.          
How long does it take before my music will be visible on our retail partners sites?
This option varies depending on which retail partner you have accepted. However, most retail partners normally work on a 1 - 2 week moderation process. We work on between 1 and 2 days moderation/admin process, therefore making the final distribution lengths between 3 and 4 weeks. (These time scales are very loose, we have be known to have releases up as little as two weeks after upload. The fewer problems at upload, the quicker the distribution.)           
Will I see my stats updated daily?
No our retail partners only send us their statistics on either a monthly or quarterly basis. Please remain patient and your stats are emailed as soon as we receive them.        
What currency do I get paid in?
US Dollars. Currently all payments from us are paid in US Dollars. However, since we are paying artists via Paypal, it makes it very easy for artists to transfer that money into any currency.        
What is an ISRC and how do they work?
An ISRC is a code that gets embeded as data into your song, it works as virtual identification and is a bit like a bar code. Without an ISRC your song could be played for free in areas which would otherwise entitle you to royalties.      
What is a UPC and how does it work?
A UPC is very similar to an ISRC. Whereas an ISRC is a virtually embeded code, a UPC is a physical bar code used for the whole album/collection of songs. UPCs are found on anything for sale, in shops, supermarkets etc.        
How do I get my ISRCs and UPCs?
We are pleased to announce that we will be able to provide all clients from all territories ISRCs and UPCs upon distribution, saving up to $75 me users!        
What file formats should I prepare for uploading?
Audio: We can only accept MP3 files with a sample rate of 44.1khz. The bitrate of the MP3 can be anything above 192kbps, however, we recommend users to use 320kbps for the highest quality. Cover Art: Album artwork files must be 1425x1425 pixels square and must be in .jpeg/.jpg format.           
How do I take down my music from stores?
You can remove your content from any or all stores, at any time (at no charge). You can take down one release or multiple releases. All you need to do is email us with all relevant details of your release.          
Will I Be Notified When My Music is Live in the Stores?
Unfortunately stores and streaming services do not provide an automated notifications system for when your music goes live in the stores. However, if you scheduled a release date when ordering your release then it will go live on that date. If you didn't schedule a release date then please keep checking stores to see when your music goes live. Normally, within 1-2 weeks.          
Can I Upload More Music to a Release That Has Been Approved for Distribution?
Once your release has been Approved for distribution or submitted for moderation, you cannot add any new tracks to that release.        
What is the Difference Between a Single, an EP, Album and an Extended Album?
Singles is 1 track. EP's are between 2 - 6 tracks. Albums are 7 - 18. Extended Albums are 18 tracks and over.        
How to Set a Future Release Date for your Music in Stores?
We allow artists to set a future release date. We require a minimum of 4 weeks lead time for a future release date.            
Can I Distribute a Cover Song?
Yes, you can. If you plan on distributing a cover song, you may need to first get permission (and possibly a license) from the original copyright holder to release your song digitally. Cover songs should NOT include the original performing artist in the track title or artist field.   INCORRECT:   Wake Me Up (Originally Performed by Avicii) Wake Me Up (Cover of Avicii) Wake Me Up (Tribute to Avicii)   CORRECT:   Wake Me Up Wake Me Up (Acoustic Version)   You will need to make sure when uploading that you use the original performing artist in the copyright C line.   You can look into purchasing a mechanical license for a cover song in the US from The Harry Fox Agency.          
What steps do I need to take to distribute a cover song legally?
In the US the song needs to licensed first through a service like Limewire, other territories that require a license are Pakistan, India, Canada and Mexico. UK rules for digital distribution dictate that the owners of both the P line (the artist / label) and the C line (the songwriter / publisher) are the same entity and permission can be granted automatically. Permission is implied as soon as the artist records their own song. In the case of cover songs, ie, the owners of both rights as different parties, a record label releasing recordings by an artist, or, an artist releasing a cover version), then the PRS/MCPS can grant a license, providing the cover qualifies as a 'faithful reproduction' of the track/song/composition.        
How do I get my Artist Image on my iTunes?
Yes. We can do this on your behalf. Simply send an email with the Artist Image you want and state your request. However there are some restrictions that you should be aware of. 1. Artist images must be .jpg or .png files, square, at least 1200 x 1200 pixels on the shortest side, in the RGB color space, and at least 72 DPI. 2. The photo must not: * Contain album cover art or the artist logo. * Contain any text, including artist names, roles, dates, instruments, or current and former bands. * Include any title treatment or borders. * Contain photo credit information. 3. Images must not be upscaled. 4. You must legally own the image. You can have an Artist Gallery as well. All the same restrictions apply except that it only has to be 1200 pixels on the shortest side.        
Can I have an Artist Biography on iTunes?
Yes. Via
http://www.allmusic.com
Am I giving yout any rights to my music?
We only obtain the rights to distribute your music on your behalf. Artists always keep 100% ownership and rights.        
How can I make money on my tracks by distributing them to streaming services?
Streaming services pay every time someone listens to your music. This comes in either a fixed fee per stream or on a pro rata basis.
You'll get 1 file (65.0KB)
More products from SEAN SHIZZLE