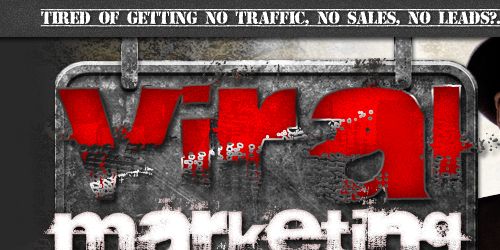 Viral Marketing Frenzy
Use The Power Of The Internet To Grow Your Business EXPONENTIALLY!

This quick-read, lay-it-on-the-line guide gives you all the basics to help you get your viral campaign rolling. It covers things like:

*7 techniques for finding out exactly what your customers are looking for - give them what they want and they'll be eager to share your product with their friends!

*6 fun ways to get your readers to do your advertising work for you - and how rewarding them doesn't have to cost you a dime!

*How to use a bestseller list to get the word out about your product or service - even if there isn't a list around, and even if you're not on it.

*How to take advantage of social networks - learn which ones work for viral campaigns, and which to stay away from.

*How even free products can earn you money - choose from a variety of models to monetize your viral campaign, and watch the money roll in along with the traffic!

*Free products are the key to every successful viral campaign. Free information, free software, or just free entertainment. The important thing is that it's free for your users to enjoy. In this eBook we'll cover exactly how you can take your free product and turn it into the centerpiece of your viral campaign.

*How to find out exactly what content your customers want and need. Don't just guess what they want to hear! When you know for sure what your potential customers are looking for, it's easy to build a viral marketing plan that will give them what they're looking for, and make more sales for you!

*How to promote your product for maximum effectiveness. Getting the word out in the right places is imperitive to your success, so you don't want to waste time and effort on ineffective techniques that won't make you any sales.


You'll also quickly learn the five must-have elements of a successful viral campaign, including:

*Leveraging the resources of other marketers - Building a JV partnership might just be the rock that gets the landslide going!

*Why it's important to offer great free content - and how to put together a valuable product quickly and easily

*Why your campaign must be unique - and how simply being yourself will solve the problem

*The strategy behind getting more traffic without paying more money – once you get the ball rolling, there don't need to be additional costs.

*Amazing strategies that will bring free traffic to your site years after the advertising campaign has ended.

*Protect yourself from complaints and negative comments. Build a buffer that shields your good reputation.

*Find customers you didn't even know existed – Viral messages spread to every "hidden" niche on the web.

*The truth behind marketers promises to make your marketing go viral – learn what they can and cannot guarantee.

*Learn the secret to getting customers to return over and over again – build a fiercely loyal customer base.

*"Free" will not always bring more customers – discover the tricks that will catch the interest of picky consumers.

*You can put your "brand" in front of thousands of eyes – before they even go to your site.

*Secrets that make it easy for your visitors to tell others – This one secret can make your message spread like wildfire.

*You can get other websites to advertise for you…for free – and they are glad to do it!

*Discover the tricks that will move your site higher on Google – Learn why Google likes some sites better than others.

*Learn how becoming an expert in your niche will bring people to your website – gain the trust of your customers, and they will listen to what you have to say.

*You can get other people to drive traffic to your website – and only pay them for the items that sell.

*Get your message out, even when your customers are not online – and get them to remember you the next time they are online.

Using any one of these techniques can send a flood of traffic to your site. By learning to combine them and use them together, your visitor counts will explode. You can start seeing amazing results within days of starting your new advertising campaign.

Just advertising your site is not enough. You need to get your message out to people who want to hear what you have to say.


...And That's Not All!
You'll also receive a 31 day-by-day actionable plan so you'll be able to follow our instructions, to the task and get results each day. By the end of the 31 day period you'll have a full-blown viral marketing frenzy that will be putting traffic to the most important place - your list!


Available in PDF. This eBook is for the personal use of the buyer only. It can not be resold.

Note:

This product comes with NO warranty or guarantee of any kind.

The author and distributor hereby disclaim all liability for the use of this product. You accept all responsibility by using/selling it.


P.S. You've got nothing to lose in this investment. You will only miss 100% of the shots you don't take. Don't make the same mistake of those who
close this page and miss out on a tremendous opportunity!
You'll get a 1.3MB .PDF file.
More products from Smart Life Skills