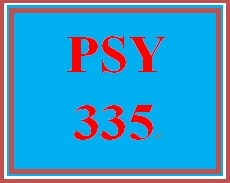 PSY 335 Week 5 Research in Careers Brochure
https://uopcourses.com/category/psy-335/
PSY 335 Week 5 Research in Careers Brochure
Imagine
 you are an academic advisor and you are working at a booth at a University fair. You want to explain the career possibilities and real world usefulness of research in psychology.
Create 
a brochure to highlight that purpose including the following:
A design that highlights various careers in psychology that utilize research in psychology
At least one example of a real research study that addresses real world issues
see the grading rubric for all grading criteria
Make sure to save often and before publishing if you use this link that it is they way you want it. It will create a PDF which you cannot edit after it is published. If you don't want to use this link feel free to create it in Word or PowerPoint.https://
ecampus.phoenix.edu/secure/aapd/Interaction/BrochureBuilder/brochurebuilder.html
Format
 your brochure consistent with APA guidelines.
Click
 the Assignment Files tab to submit your assignment.
You'll get 1 file (546.8KB)