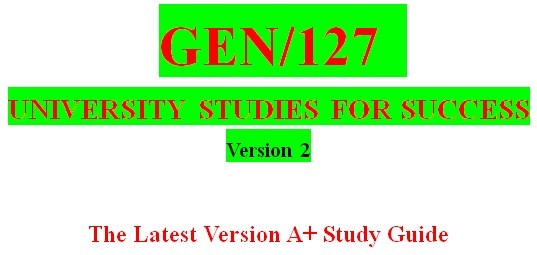 GEN127 Week 7 Paying it Forward
https://uopcourses.com/category/gen-127/
GEN127 Week 7 Paying it Forward
Instructions
Write a 500-to 700-word letter in a Microsoft Word document to a prospective student who is interested in learning more about your first class experience with University of Phoenix.
Include two of the following topics and discuss how each was beneficial during the course and contributes to your academic and career success.
• Student resources
• University learning goals
• Effective communication
• Career exploration
• Mastering the writing basics
Describe, in the conclusion, at least three best practices the prospective student can use to achieve success during the first class. Potential ideas might include the following:
• Time management
• SMART goal setting
• Attendance and participation
• Reading and studying techniques
Ensure your paper is free of spelling, grammatical, and mechanical errors.
Submit your paper to the Assignment Files tab above.
You'll get 1 file (29.5KB)