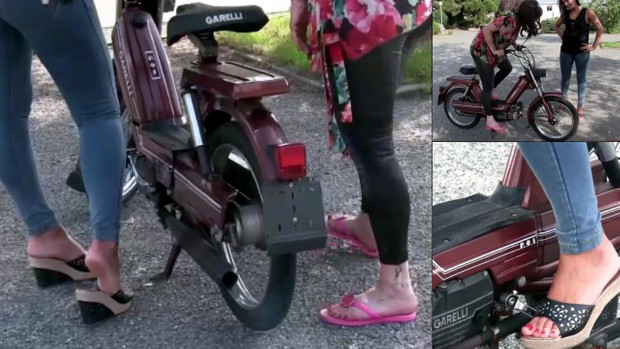 104 : Miss Vicky & Miss Iris having fun with a moped Garelli
Late summer ... a lovely and warm saturday afternoon ... Miss Iris decides to take advantage of this wonderful day to have the last ride of the season with her moped Garelli.

As always, her moped makes so many whims but finally Miss Iris succeeded to get it started and enjoyed some revving with it!

Suddendly Vicky arrives ... and suddendly the moped dies !!

Vicky tries to bring it again to life, and when the moped finally starts again, both Misses enjoy some revving and play with their feet with the exhaust pipe.

Once the engine of the moped is warm enough ... they leave for a nice ride !


You'll get 1 file (427.8MB)