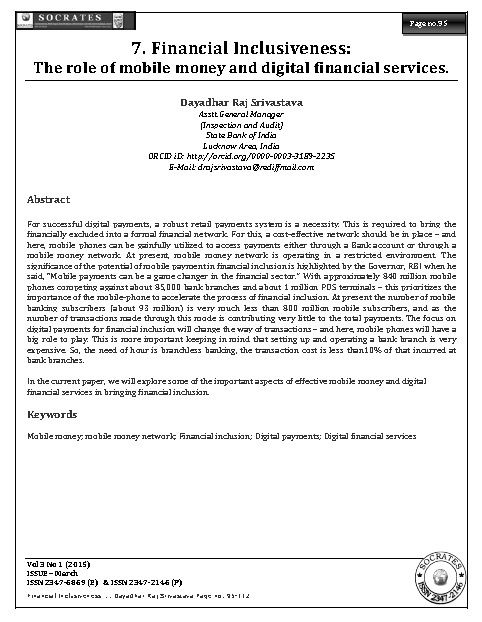 Financial Inclusiveness : The role of mobile money and digital financial services.
For successful digital payments, a robust retail payments system is a necessity. This is required to bring the financially excluded into a formal financial network. For this, a cost-effective network should be in place – and here, mobile phones can be gainfully utilized to access payments either through a Bank account or through a mobile money network. At present, mobile money network is operating in a restricted environment. The significance of the potential of mobile payment in financial inclusion is highlighted by the Governor, RBI when he said, "Mobile payments can be a game changer in the financial sector." With approximately 840 million mobile phones competing against about 85,000 bank branches and about 1 million POS terminals – this prioritizes the importance of the mobile-phone to accelerate the process of financial inclusion. At present the number of mobile banking subscribers (about 93 million) is very much less than 800 million mobile subscribers, and as the number of transactions made through this mode is contributing very little to the total payments. The focus on digital payments for financial inclusion will change the way of transactions – and here, mobile phones will have a big role to play. This is more important keeping in mind that setting up and operating a bank branch is very expensive. So, the need of hour is branchless banking, the transaction cost is less than10% of that incurred at bank branches .

In the current paper, we will explore some of the important aspects of effective mobile money and digital financial services in bringing financial inclusion.
You'll get a 1.1MB .PDF file.