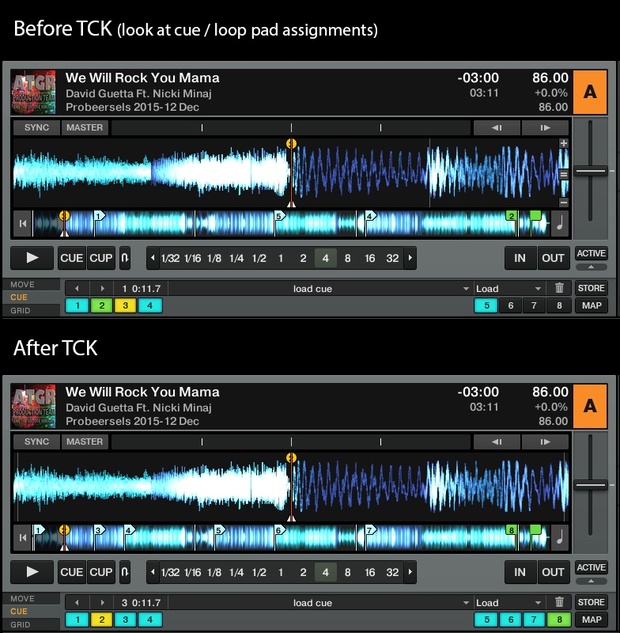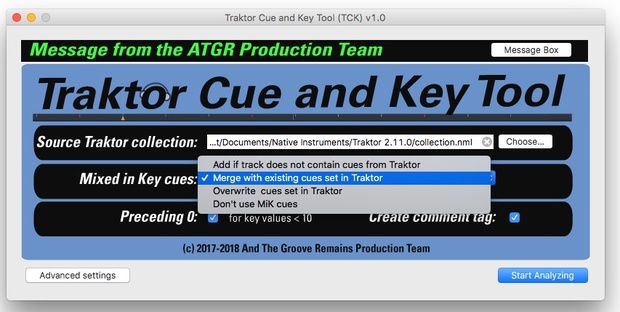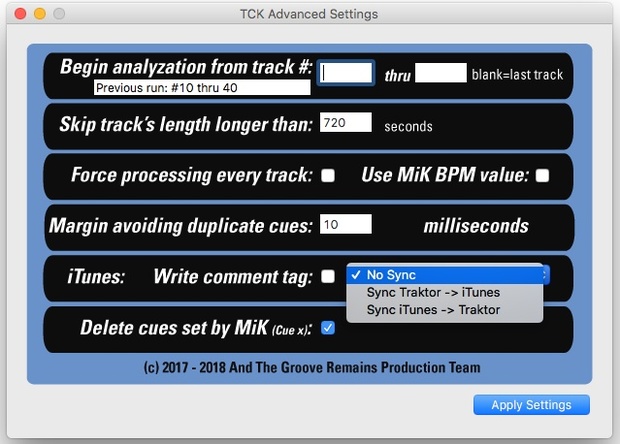 Traktor Cue and Key Tool (TCK) for MacOS
current version : 1.0 dated April 15th 2018
The Traktor Cue and Key Tool (TCK) is an app that aids in the integration of Traktor, Mixed in Key and iTunes:
TCK is like a swiss army knife when it comes to synchronizing metadata that previously was not sync-able between these three apps.
TCK and cues:


Tracks without a beatmarker are collected to a dedicated playlist in Traktor, the more accurate the beatmarker is set the more usable the Mixed in Key cues are.


TCK can merge Mixed in Key cues with existing cues and loops, replace all existing cues or not use MiK cues at all if the track already contains user set cues. 


To avoid setting duplicate cues, TCK checks if there is a user cue (give or take a pre-defined margin) before setting a Mixed in Key cue. 


Sort cues, loops and beatmarkers chronologically


Reassing cues and loops to the most logical pad (load cue at the front of the pads, catch loop near the end) 


Remove Mixed in Key cues without removing user set cues, loops and beatmarkers 


TCK and Camelot keys:


Collects all tracks without a valid Camelot key to a dedicated playlist in Traktor for easy batch delivery to Mixed In Key


supports all audio format both MiK and Traktor support including FLAC and WAV.


TCK and reformatting key and comment tags:


Adds a '0' in front of Camelot keys with a value lower than 10


Generate sortable comment tags (key-bpm) using the bpm value from Traktor instead of the MiK analyzed value


TCK and iTunes with Traktor syncing or vice versa.


Sync non-standard tags such as star ratings and play count between Traktor and iTunes or vice versa


Syncing from iTunes to Traktor also sync's the date added tag in Traktor.


Gives iTunes the missing option to refresh tags of selected tracks from the track's ID3 tags


TCK is lead up by the Traktor collection as opposed to playlists/folders. If a TCK processed track is part of playlists the results will be shown in those playlists as well. It is possible to limit the scope of TCK to only a part of the Traktor collection. This will reduce the processing time dramatically and for instance enable the processing of only tracks that were recently added to the collection.
The complete video tutorial is at:
https://youtu.be/y5dTSxws4a4
you can download the manual at:
https://www.dropbox.com/s/23js8te6s7pgxk6/Traktor%20Cue%20and%20Key%20Tool%20Manual.pdf?dl=1
Known limitations
TCK only works on UTF8 character sets. Extended characters sets in UTF16 are not supported.
Convert from Windows
I've written a whitepaper how Windows users can take advantage of my apps. I recommend you read the whitepaper, follow the intructions and convince yourself everything works before you buy my apps. I only support the MacOS side. The process of going back and forth between MacOS and Windows is strictly experimental.
https://www.dropbox.com/s/v772d7elh37n10m/Windows%20to%20MacOS%20Collection%20conversion%20whitepaper.pdf?dl=1
Facebook page:
https://www.facebook.com/Traktor-Cue-and-Key-Tool-TCK-568984723463420/
Rekordbox users check out:
https://sellfy.com/p/Ma5H/
IMPORTANT:


MacOS only (no refund to Windows users who accidently buy this app!)


for Mixed in key integration the minimum Mixed in Key requirement is 8.1.2 


fully compatible with MacOS from version 10.9 upto to MacOS 10.13 (High Sierra)


fully compatible with Traktor 2.X (including the 2.11.3 beta)


You'll get 1 file (10.1MB)
More products from And The Groove Remains Production Team